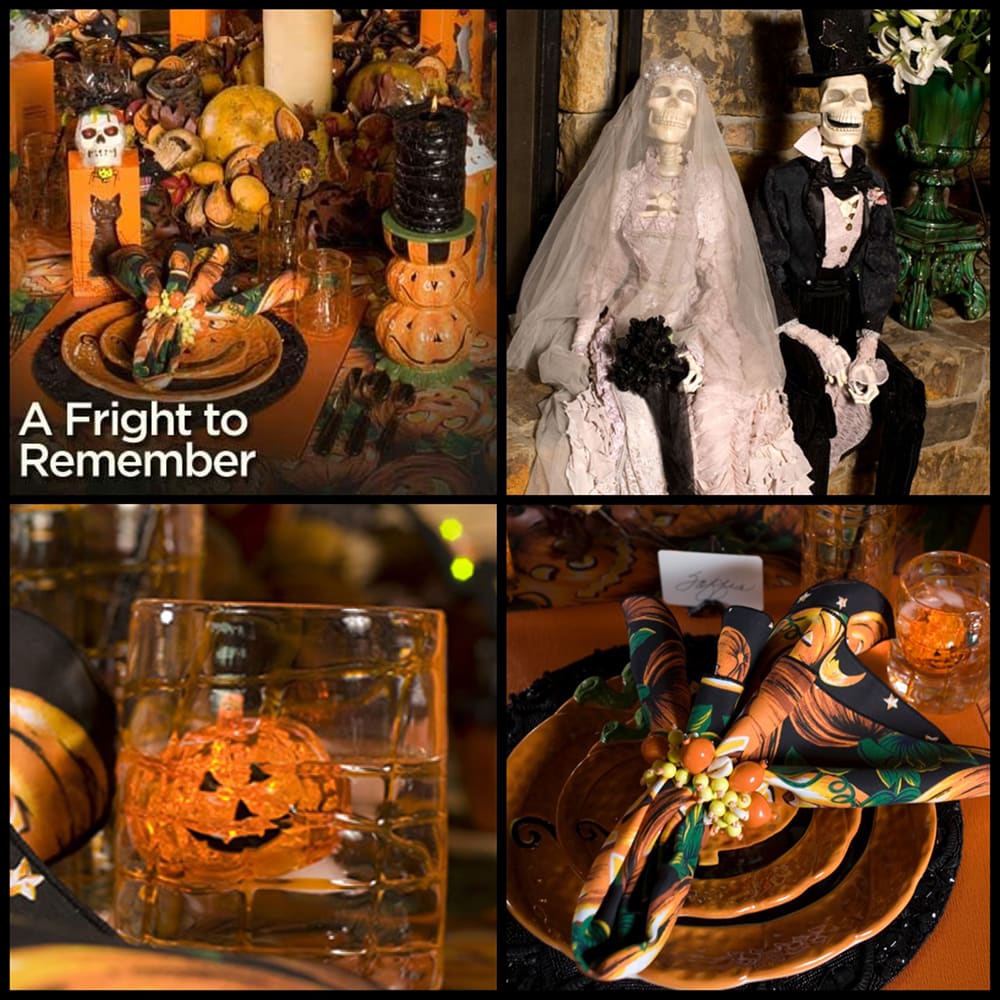 A spooky stir stick-glowing jack-o-lantern ice cubes add whimsy and intrigue. Sir Simon Skellington III and Lady Scarlet Skeleta of Frightville are the talks of the party.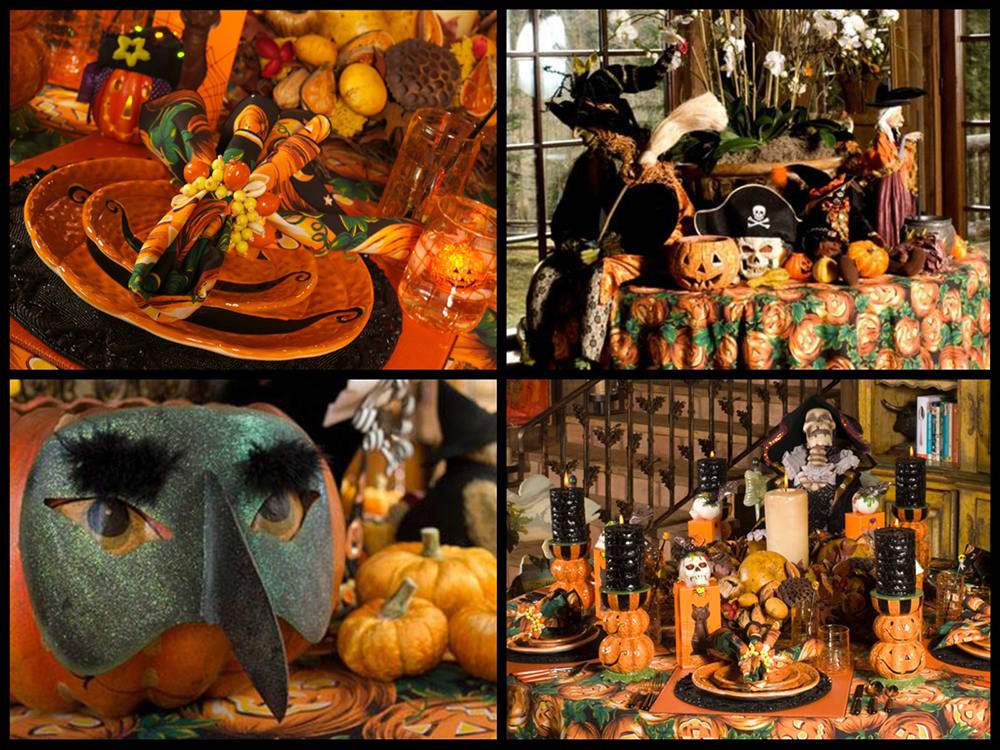 A theme table makes every holiday special, get creative! The orchid arrangement works as a natural element surrounded by Halloween. Masks are a fun way to add interest and texture to your centerpiece. Multi-Use autumn-inspired centerpiece.
Who says you have to be a kid to enjoy Halloween? With the right decorations, it's possible to set a mood that is both festive and sophisticated—even on a night that's typically devoted to creepiness and kitsch.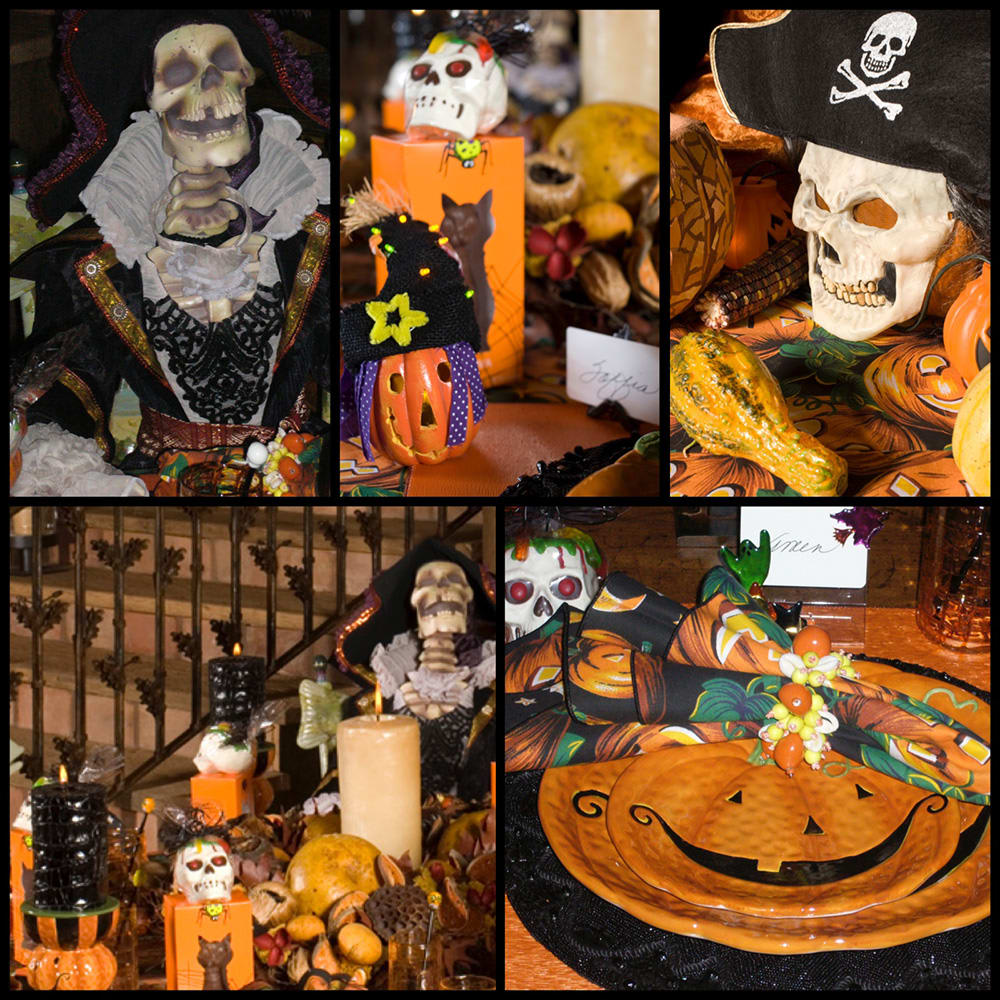 Guests may be dying for dinner, so make sure to have plenty of treats on hand.
One of the most important elements of the evening is illumination. By dimming all of the lights in the room and relying heavily on candles, you instantly create a mysterious atmosphere.
Masks are a fun way to add interest and texture to your centerpiece. And painting on pumpkins rather than carving them enables you to stretch their usefulness over two holidays. After Halloween, simply remove the mask, hide the eyes and use the pumpkin for a Thanksgiving decoration.
When it comes to assembling a fabulous table-scape like the one pictured above, start with the dishes. Once you have chosen those, begin to build around them with the tablecloth/place-mats, napkins and so forth. While it's important to pick a theme to anchor your table, don't be afraid to mix it up with different textures and unexpected accessories.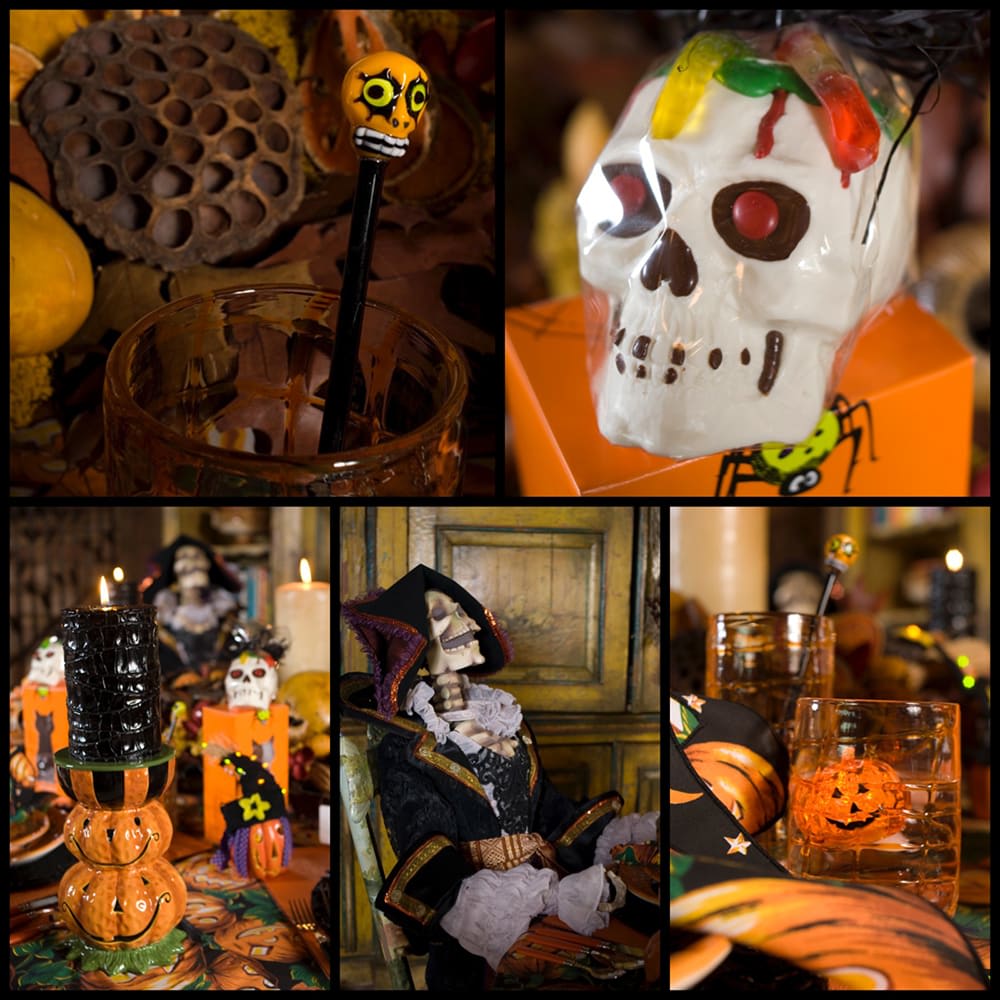 A chocolate skull with a gummy worms flowing skull makes a great party favor.
It's OK to forgo fresh cut flowers that only last a few days… As with the dinner table centerpiece pictured above, the orchid arrangement easily works as a natural element surrounded by Halloween-specific details. The tiny pumpkins and gourds can also be used for fall and Thanksgiving decorations once the Fright Night comes to an end.
How do you deal with a last-minute cancellation when your intricate table is already set? The bony pirate became a seated dinner guest and saved us the trouble of reconfiguring the table.
Notice the autumn-inspired centerpiece. Once the Halloween decorations are stripped away, it becomes the anchor for a Thanksgiving spread.
Over the years, we have amassed a large personal collection of Halloween decorations. But every year, there is something new that catches our eye and finds its way onto the table. Guests love the unexpected! If you see something you love, best to snap it up right then because it's likely to be unavailable next year. Case in point: the skeletons that served as the guests of horror, or, honor, for this party. Spotting a great conversation piece, he bought them a few years ago, and now they're extremely hard to come by. Carpe Diem!