Serve yourself a wonderful glass of wine and settle in and enjoy creating this delicious recipe, shared by our dear friend and fellow foodie, Lisa Hoener. Bombay Shrimp is a tantalizing, simple curry to tease your taste buds, perfectly balanced by Coconut Rice.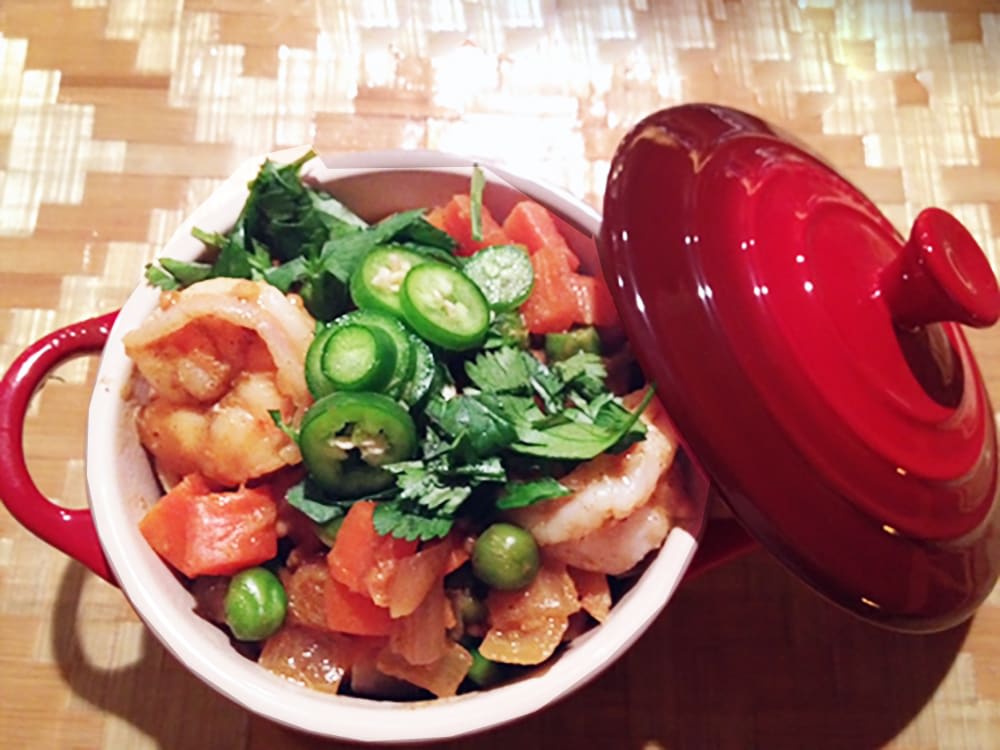 Prep time: 25 minutes
Cook time:20 minutes
Ingredients
Make Bombay Shrimp
5 teaspoons olive oil, divided
1 pound peeled and deveined shrimp
3/4 teaspoon salt, divided
1/4 teaspoon black pepper
1 1/2 cups chopped onion
1 1/2 tablespoons curry powder
1 tablespoon mustard seeds
1/4 teaspoon ground cinnamon
1/8 teaspoon ground red pepper
1 1/3 cup chicken broth
1 cup frozen peas
1 cup finely, small diced carrots
Make Rice
1 cup uncooked, rinsed Jasmine rice
1 cup light coconut milk
1/2 cup of chicken broth
Garnish
1 tablespoon chopped fresh cilantro
2 tablespoons Toasted Coconut
1-2 small Serrano pepper's thinly sliced

Sriracha

, Thai hot sauce
Instructions
Rice
Start your rice first as it will require more time than the shrimp, bring coconut milk and broth to a boil in a saucepan. Stir in remaining 1/8 teaspoon salt and rice. Cook rice according to package directions adding additional broth if required.
Bombay Shrimp
While rice is cooking, heat a Dutch oven over medium-high heat. Add 2 teaspoons oil; swirl to coat. Sprinkle shrimp with 1/8 teaspoon salt and black pepper. Add shrimp to pan; cook 2 minutes on each side or until done. Remove from pan.
Reduce heat to medium; add remaining 3 teaspoons oil; swirl to coat. Add onion and carrots; cook 3-5 minutes, stirring constantly. Add 1/2 teaspoon salt, curry powder, followed by mustard seeds, cinnamon and red pepper; cook 1 minute, stirring constantly. Add hot broth and peas; bring to a boil. Cover and reduce heat to medium-low; simmer 4 minutes. Return shrimp to pan; cook 1 minute.
Serve & Garnish
Place about 1/3 cup rice on each of 4 plates; top each serving with about 1 cup shrimp mixture.
Sprinkle each serving with 3/4 teaspoon cilantro, sliced Serrano's to taste, 1/2 tablespoon of toasted coconut and a small decorative drizzle of Sriracha.
Notes
Adapted By Lisa Hoener | from Cooking Light
Nutrition