Braised Veal Cheeks are festive and delicious. The presentation offers rich and beautiful colors and textures on a simple plate. If you have not made Veal Cheeks, give them a try. They are succulent, meaty, soft, subtle and tender with a delicate flavor. We hope you enjoy this recipe as much as we do.
The Christmas place setting below is built layer upon layer to savor each delicious course. Adding a charger gives a place setting depth, followed by the solid dinner plate and the festive Santa plate. This Santa bowl envelops the soup course and as each layer is added we are creating a culinary gift to be unwrapped.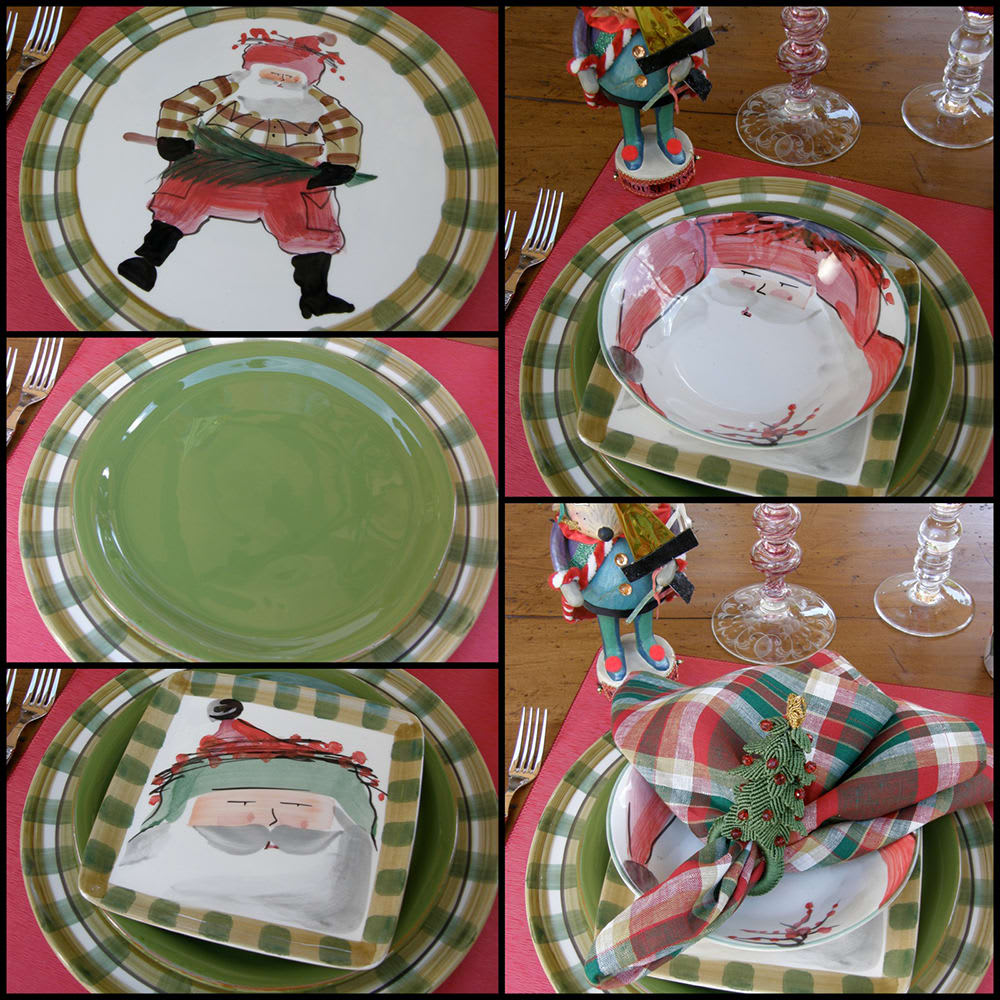 The final dinner course is served on a simple solid plate.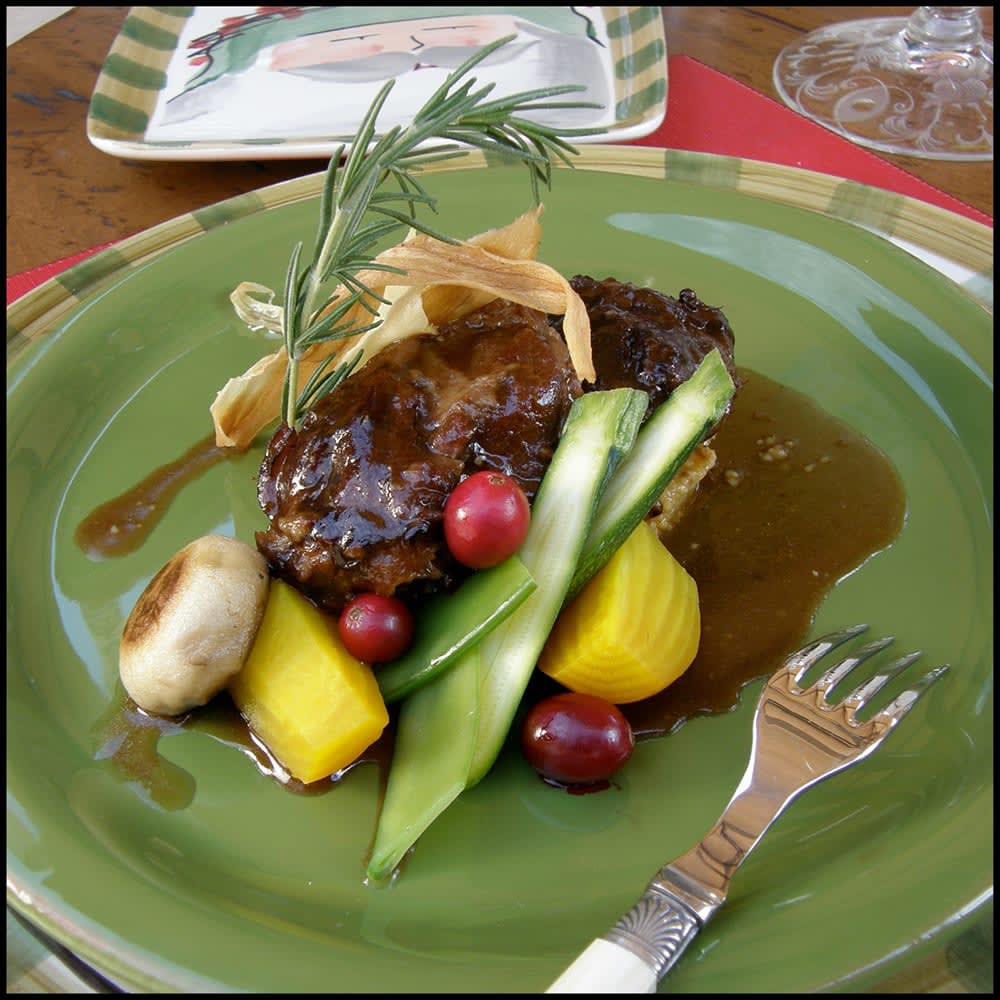 Veal Cheeks are considered a delicacy and may require a special order from your butcher.
Prep time: 45 minutes
Cook time:3 hours 30 minutes
Ingredients
Veal Cheeks
1/4 cup extra virgin olive oil
16 4-ounce veal cheeks, trimmed of excess sinew and fat
1 red onion, chopped
1 carrot, chopped
1 celery rib, chopped
1 turnip, chopped
2 cups red zinfandel wine
3 cups veal stock
1/4 teaspoon coriander
1/4 teaspoon fennel seed
1 bay leaf
1 small bunch of thyme
6 Roma tomatoes, chopped
1 cup fresh cranberries, cooked slightly with granulated sugar
Kosher Salt and fresh ground black pepper to taste
Soft Sun Dried Tomato Polenta
2 cups chicken or vegetable broth
1 tablespoon fresh parsley, finely chopped
1 tablespoon heavy cream
Kosher salt and fresh ground black pepper
1 cup coarse corn meal
1 ounce sun-dried tomatoes, chopped
1 teaspoon white truffle oil
1/2 teaspoon fresh garlic, finely minced
1/2 teaspoon fresh shallots, finely diced
1 teaspoon Parmigiano-Reggiano cheese, grated
1 tablespoons extra virgin olive oil
Instructions
Veal Cheeks
Preheat oven to 350 F.
In an ovenproof, 6-quart heavy pot, heat oil over medium-high heat until almost smoking.
While oil is heating, pat veal cheeks dry and season with salt and pepper.
Brown veal cheeks on all sides. Remove from pan.
Add vegetables, stir and season. Cook about 10 minutes or until soft and lightly caramelized.
Add wine to pan and scrape up any bits. Reduce wine by half and add veal stock.
Return veal cheeks to pot with tomatoes and re-season.
Bring to a simmer and cover with lid (or foil), then braise in the middle of oven for about 3 hours until meltingly tender.
Remove veal from braising liquid and keep warm. Strain liquid and return to a saucepan. Skim fat from top and reduce over low heat until you have ½ cup of braising liquid.
Pour liquid over veal cheeks. Set aside and keep warm.
Soft Sun Dried Tomato Polenta
In a medium saucepan, heat up oil over medium high heat. Add shallots and garlic and sauté until lightly caramelized.
Add broth and bring to a boil.
Add corn meal and stir, bring to a simmer and reduce heat. Simmer for about 8-10 minutes and stir from time to time until moisture is absorbed.
Add cream, sun dried tomatoes, parsley, and white truffle oil and fold in the Parmesan cheese.
To serve, arrange the polenta in the center of a serving plate, place the veal cheeks on top of polenta.
Use your favorite vegetables, as shown in the picture, like oven-roasted yellow beets, baby zucchini, white bottom mushroom, sugar snap peas and fresh cranberries.
Drizzle sauce over the cheeks and around the plate and garnish with fried parsnip and rosemary sprig.
Notes
Created for SW by | Chef Michael Rueggeberg
Nutrition