This is a wonderful winter salad full of beautiful fall flavors. It can be served as a hearty lunch salad or a starter dinner salad. We hope you enjoy it as much as we do. If you do not have flavored balsamic and olive oil use plain, however, we do encourage you to try the flavors above as they add another layer of deliciousness to the salad. For easier prep if available at your grocery store use cubed squash, baby Arugula, and Pomegranate seeds. If you prefer you may also substitute baby Arugula for baby Spinach.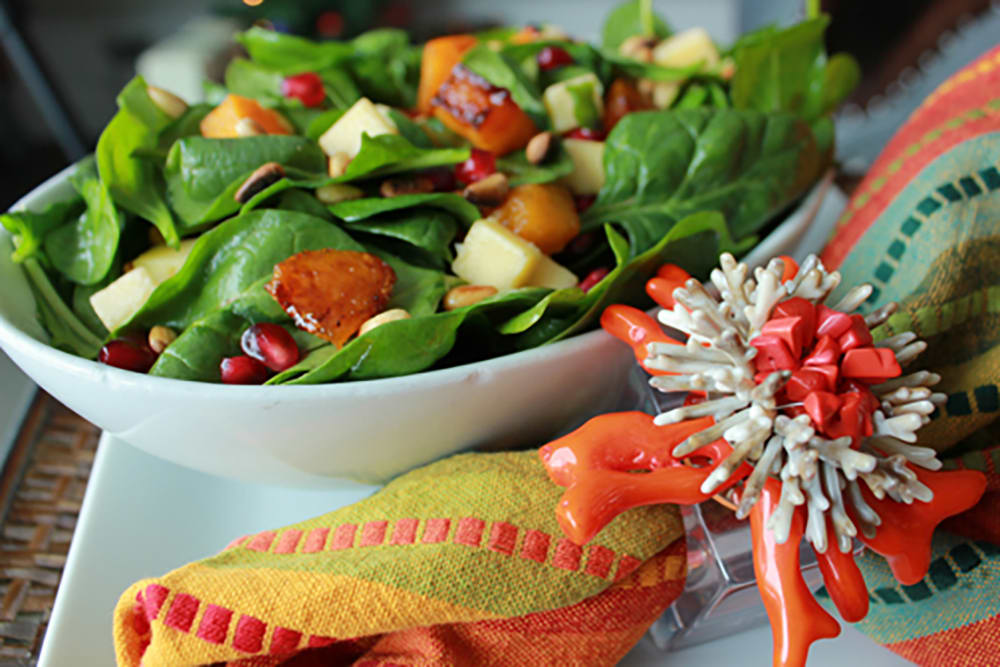 Prep time: 20 minutes
Cook time:45 minutes
Ingredients
Salad
1 Butternut Squash, peeled and cubed
2 T Maple Syrup
10 oz of organic baby Arugula
1/2 C Toasted Pecans
7 oz Irish Dubliner Cheese, small cubed
1 large Pomegranate, seeded with all pith removed
2 T Blood Orange Olive Oil available at Oleaceae
Dressing
Instructions
Salad
Preheat oven to 450 degrees.
Toss cubed squash with 2 T of Blood Orange Olive Oil, roast on a baking sheet for 25-30 minutes. Do not over crowd and turn mid-way through.
Meanwhile toast Pecans and allow them to cool.
If not pre-washed then wash and dry baby Arugula and set aside in the refrigerator.
Remove squash from the oven and toss with the maple syrup, return to oven and roast for another 10-15 minutes to caramelize, remove from the oven and allow to cool. Make sure that squash is dry with slightly crispy edges.
Dressing
Whisk together 1 1/2 T Pomegranate Balsamic, 2 1/2 T Blood Orange Olive Oil, salt and pepper to taste.
Assemble
Add baby Arugula to large serving bowl top with half of the Pecans, half of the Pomegranates, half of the Irish Dubliner cheese and half of the dressing and mix well.
Add cooled squash and the rest of the ingredients and toss to incorporate.
Serve immediately
Notes
Adapted From | Power Foods
Nutrition