Wrap this sweet, delicious cake with candied carrots to create an edible bow on top of layers of ginger, carrot, coconut and pecans that are frosted in smooth, rich and creamy Orange Cream Cheese frosting.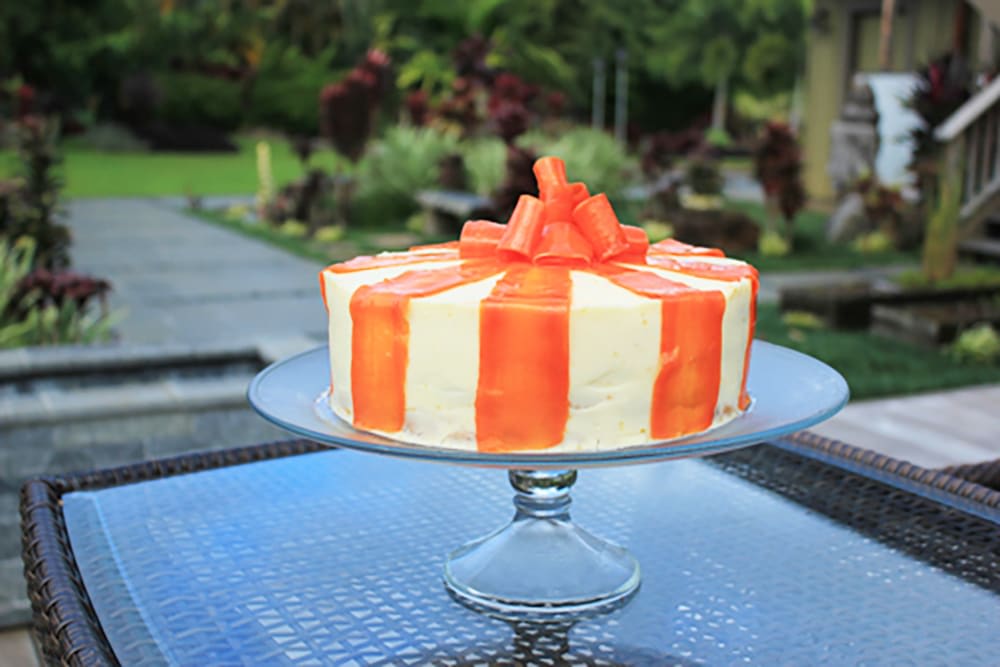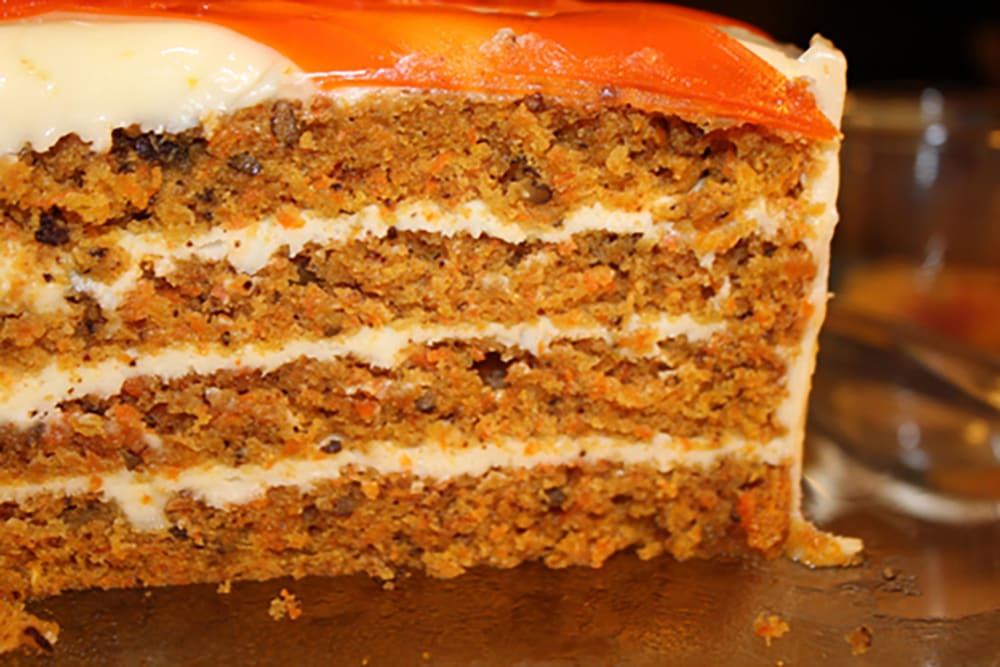 Prep time: 4 hours
Cook time:1 hour 30 minutes
Ingredients
Cake
Unsalted butter, for pans
3 cups all-purpose flour, plus more for pans
1 cup (3 ounces) pecan halves
1 pound large carrots, peeled
3 large eggs, room temperature
1/3 cup nonfat buttermilk
1 teaspoon pure vanilla extract
2 cups sugar
1 1/2 cups vegetable oil
1 tablespoon freshly grated ginger
2 teaspoons baking powder
1 teaspoon baking soda
1 teaspoon salt
1 teaspoon ground cinnamon
Layers
1/2 cup of toasted, chopped pecans
1/2 cup of shredded, unsweetened coconut
Orange Cream Cheese Frosting
3/4 cup (1 1/2 sticks) unsalted butter, room temperature
3 bars (8 ounces each) cream cheese, room temperature
3 cups confectioners' sugar, sifted
1 tablespoon freshly grated orange zest
2 tablespoons freshly grated ginger
Pinch of salt
Candied Carrot Strips
4 to 5 large carrots, peeled
6 cups sugar
4 cups water
Instructions
Cake
Heat oven to 375 degrees. Butter two 8-by-2-inch round cake pans. Dust pans with flour, and tap out any excess. Set pans aside. Spread pecans in a single layer on an ungreased baking pan, and toast in the oven until lightly golden, about 7 minutes. Remove pan from oven, and let stand until completely cool. Reduce temperature to 300 degrees. Finely chop pecans, and set aside.
Using a small holed micro-plane grater, grate carrots, yielding 2 1/2 cups. Place carrots, eggs, buttermilk, vanilla, sugar, vegetable oil, and ginger in a large bowl; whisk until well combined.
In a medium bowl, whisk together flour, baking powder, baking soda, salt, and cinnamon. Using a rubber spatula, fold the flour mixture into the carrot mixture until combined. Fold in the toasted pecans.
Divide batter between the two cake pans, and bake until a cake tester inserted into the middles comes out clean, about 1 hour. Remove pans from oven, and transfer to a wire rack to cool, 15 minutes. Turn cakes out onto rack; let stand until completely cool.
Using a serrated knife, trim tops of the cakes so surfaces are level. Slice each layer in half horizontally. Place a layer on a cake stand or cardboard round, and spread 3/4 cup frosting over top, sprinkle with chopped toasted pecans and coconut. Place a second cake layer on top, and spread with another 3/4 cup frosting, sprinkle with chopped toasted pecans and coconut. Repeat with third layer and another 3/4 cup frosting and sprinkle with chopped toasted pecans and coconut. Place last cake layer on top, and spread the remaining frosting over the top and the sides of the assembled cake. Transfer to refrigerator, and chill 3 to 4 hours.
If using the candied carrot strips, set a wire rack over a baking pan. Using your fingers, lift one candied carrot strip from the sugar syrup, holding it over the container. With the thumb and forefinger of your other hand, gently squeeze the carrot strip and slide your fingers along its length, removing as much excess syrup as possible; lay the carrot strip on the wire rack. Repeat with the remaining carrot strips.
Gently place tapered end of a carrot strip in center of cake, and gently press it down the side of the cake; place a second strip next to it. Continue applying strips around entire cake. Form 2 or 3 strips into a decorative bow, and place on top. Cut cake, and serve.
Orange Cream Cheese Frosting
Place butter in bowl of an electric mixer fitted with the paddle attachment, and beat on medium-high speed until fluffy, about 2 minutes. Add cream cheese, and beat until well combined and fluffy, about 2 minutes more. Add sugar, orange zest, ginger, and salt, and beat for 5 minutes.
Candied Carrot Strips
Using a mandolin, slice carrots lengthwise into 1/8-inch-thick strips, and set aside.
In a medium stockpot combine sugar and water. Bring to a boil, stirring to dissolve sugar. Add carrots, reduce to a simmer, and cook until translucent, 10 to 12 minutes. Will keep refrigerated in syrup in an airtight container for up to 3 days.
Notes
Adapted From | John Barricelli Clean Up: Place pieces of parchment from the outer edge of the cake to the end of the cake stand before frosting, then after the entire cake is frosted simply discard the parchment. This will keep your cake stand or plate clean.
Nutrition