OK, so why the picture in the raw? It looked so good finished I couldn't wait to serve it and forgot to take the post-oven shot! I did manage separate pictures of the crispy chicken and caramelized vegetables, take a look below!
The recipe is simple, healthy, delicious, and very forgiving as you can substitute most vegetables and add any additional, favorite spices or herbs you may have. I've said this many times before, my favorite roasting pan is my All-Clad paella pan, it accommodates most dinners entirely and can also go straight to the table for a rustic presentation.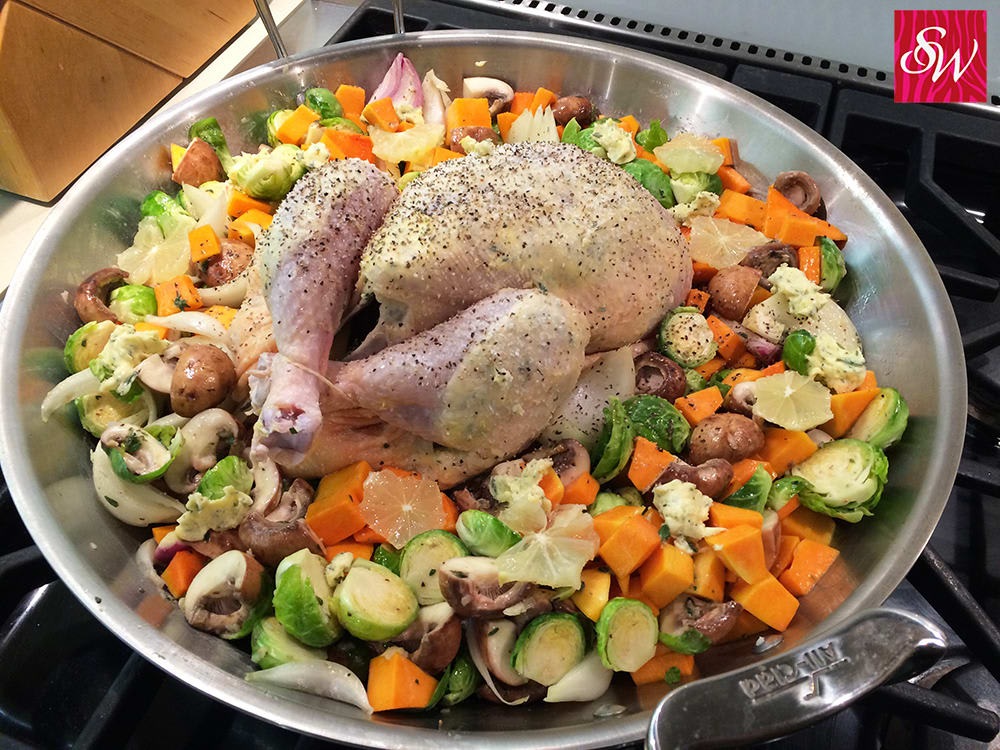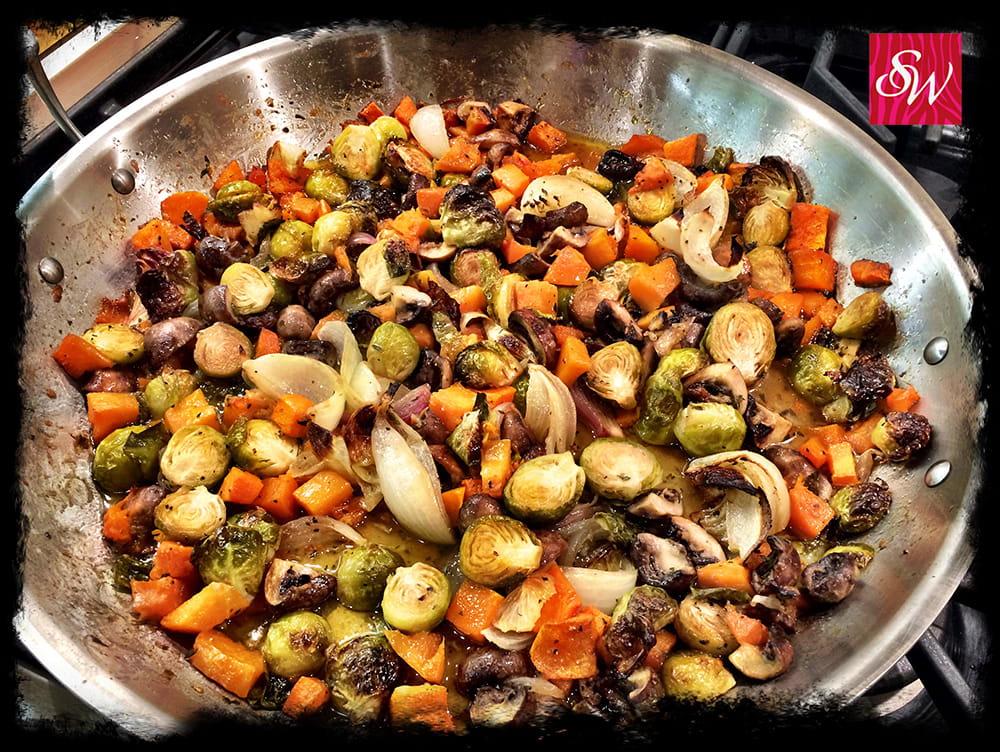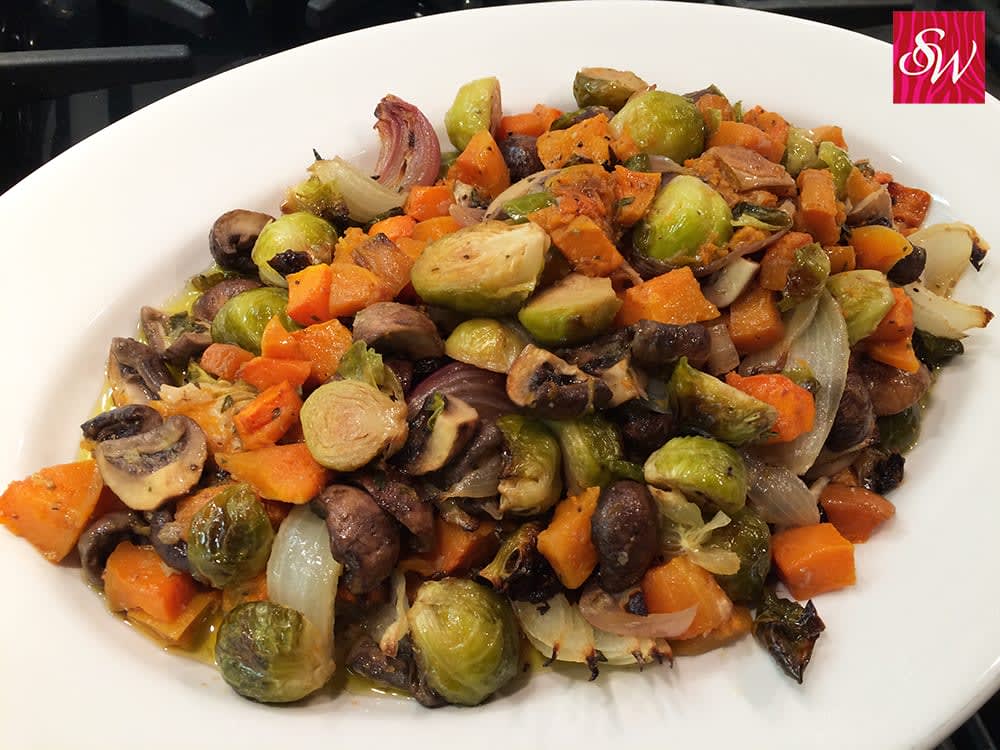 Roasted Chicken with Winter Vegetables
Ingredients
Chicken and Vegetables
1

3½-4 lb Organic Chicken, trussed

1

lb of Organic Brussel Sprouts, trimmed and halved

1

Small Organic Butternut Squash, peeled and cut into

1

" cubes

16 oz

of Cremini Mushrooms, stemmed and halved

1

Shallot, peeled and cut into wedges, through the stem

1

Yellow Onion, peeled and cut into wedges, through the stem

3

Garlic Cloves

¾ tsp

Kosher Salt, plus more
Pepper to taste

1

bunch of fresh Rosemary

1

Bunch of fresh Thyme

1

small lemon, quartered

1

small lemon, zested, then peeled and thinly sliced

8 oz

of Organic Butter, softened

¼

–

½

cup of dry white wine
Vinaigrette For Vegetables
2 tablespoons

freshly squeezed lemon juice

1 teaspoon

Dijon mustard

1 teaspoon

minced garlic

½ tablespoon

minced fresh thyme leaves

¾ teaspoon

kosher salt

¼ teaspoon

freshly ground black pepper

¼ cup

good olive oil
Instructions
Chicken and Vegetables
Preheat the oven to 375° F. Prepare the chicken by removing the giblets from the body cavity, clean and rinse under a cold running tap and pat dry with paper towels, set aside.
Using a pestle and mortar make a paste by smashing the salt and garlic cloves. Chop 2 tbs of rosemary and 2 tbs of thyme, reserving the remaining herb sprigs. Mix the herbs, garlic paste, and lemon zest with the butter, set aside.
Carefully loosen the skin on the breast, legs, and thighs and rub the butter under the skin and lightly over the entire chicken, season the outside well with kosher salt and pepper. reserving any remaining butter. Stick remaining herb sprigs and quartered lemons in the cavity and tie the legs, using kitchen twine, set aside.
Vinaigrette For Vegetables
Combine the olive oil, lemon juice, mustard, garlic, thyme, salt, and pepper in a jar and shake well.
In a large bowl coat vegetables and onions with vinaigrette.
Assemble
Arrange a layer of vegetables on a paella pan or roasting pan, topping with pads of remaining butter and lemon slices, place the prepared chicken on top of the vegetables and roast for 60-90 minutes or until internal temp on the chicken reaches 165° F, rotating the pan as necessary for even browning.
Remove the chicken from the pan and allow it to rest on a cutting board, tented with foil for 10-15 minutes. Change the temp on the oven to broil and return the veggies to the oven to broil to brown the tops, take care not to burn, meanwhile, carve the chicken and keep warm.
When vegetables are done, remove from pan and deglaze the pan with white wine. Pour sauce over chicken and serve with vegetables and lemon wedges.
Notes
I really like the organic brand called "Smart Chicken", as it comes free of giblets and already trussed. I do however still rinse out the cavity.