We adore these tostadas, the flavors are fresh and delicious, grilled fish or tofu may be substituted for chicken. The dish is filling, low in calories and very nutritious. Be creative and add any type or raw or roasted vegetables you have. The secret of pulling the flavors together is the roasted poblano, tomatillo salsa and lime.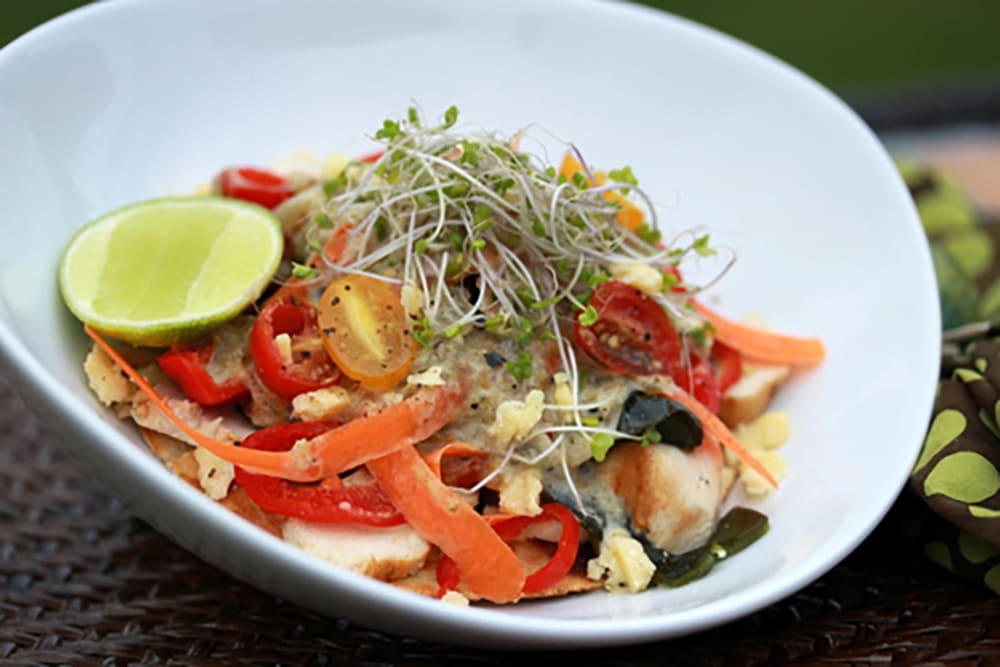 Grill chicken breast on each side until golden brown but not done all the way through. Remove from heat, cover with foil and set aside. The chicken will continue to cook while you assemble the tostadas (nobody likes dry chicken).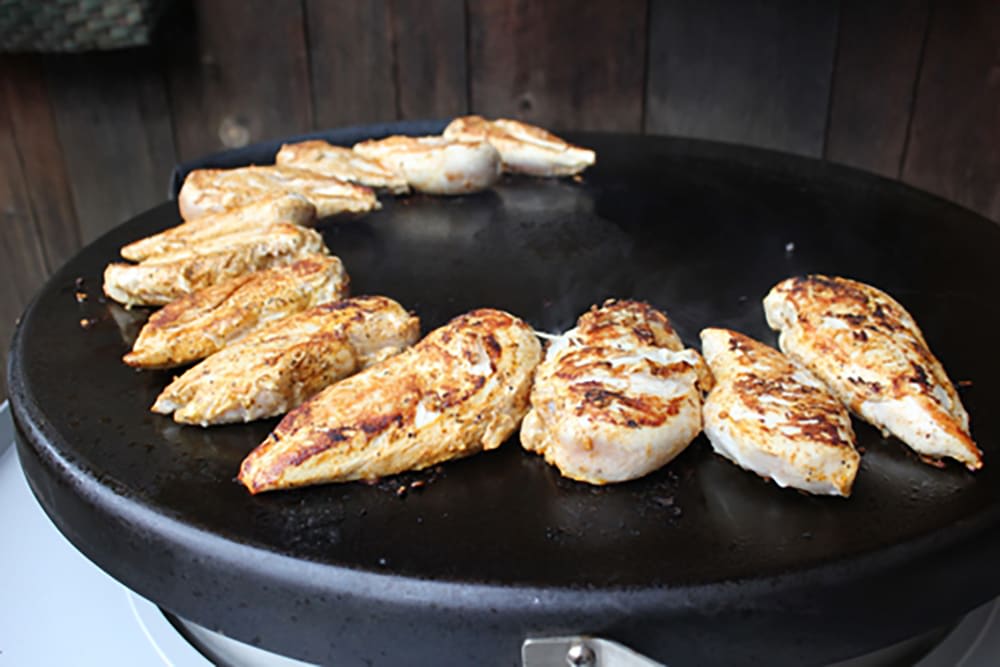 We really like green chili corn tortillas by La Tortilla Factory but you can also substitute your favorite.
Chicken Tostada
Prep Time:

20 minutes

Cook Time:

15 minutes

Total Time:

35 minutes
4

green chili corn tortillas by La Tortilla Factory (substitute your favorite)

4

boneless chicken breasts

1 tsp

garlic salt

1/2 tsp

pepper

1/2 tsp

crushed chipotle pepper

1

small carrot, juilenned or shaved using a peeler

1

red pepper cored and sliced into strips

2 Tbsp

olive oil

3

roasted poblanos

2 Tbsp

garlic ailoli or vegenaise

1

avocado, divided into quarters and sliced into strips

4 Tbsp

of cilantro leaves

1 Tbsp

fresh lime juice +

4

half limes for garnish

4 Tbsp

shredded white cheddar cheese

1

C cherry tomatoes, halved

1

C broccoli sprouts
INSTRUCTIONS
Place poblano peppers on aluminum foil lined baking sheet and broil until skin is dark and bubbly, turning to broil all sides.
Remove from the oven and place peppers in a plastic bag, allowing them to steam for 5 minutes.
Peel off the skin, de-seed and cut into strips, set aside.
Mix tomatillo sauce, chipotle pepper, aioli and lime juice, mix well and set aside.
Heat griddle pan to med-high, coat chicken breasts on both sides with olive oil, sprinkle with garlic salt and pepper.
Grill chicken breast on each side until golden brown but not done all the way through. Remove from heat, cover with foil and set aside. The chicken will continue to cook while you assemble the tostadas (nobody likes dry chicken).
Place tortillas on the top rack and broil on each side until light brown and crunchy.
Watch very closely, to avoid burning, divide tortillas into 4 serving dishes.
Slice chicken breasts into strips and arrange one breast on top of each tortilla.
Top each tostada with sliced poblanos, tomatillo salsa, cheese, julienne carrots, cherry tomatoes, red peppers and avocado strips.
Finish with broccoli sprouts, cilantro leaves, salt and pepper to taste.
Garnish with a lime wedge