A quick and easy dessert; the perfect ending to any meal. The raspberries add a burst of flavor and the chocolate melts in your mouth. You can use a double boiler if you don't have a microwave. If you have any leftover chocolate, throw in some roasted salted nuts to create additional clusters following the steps above.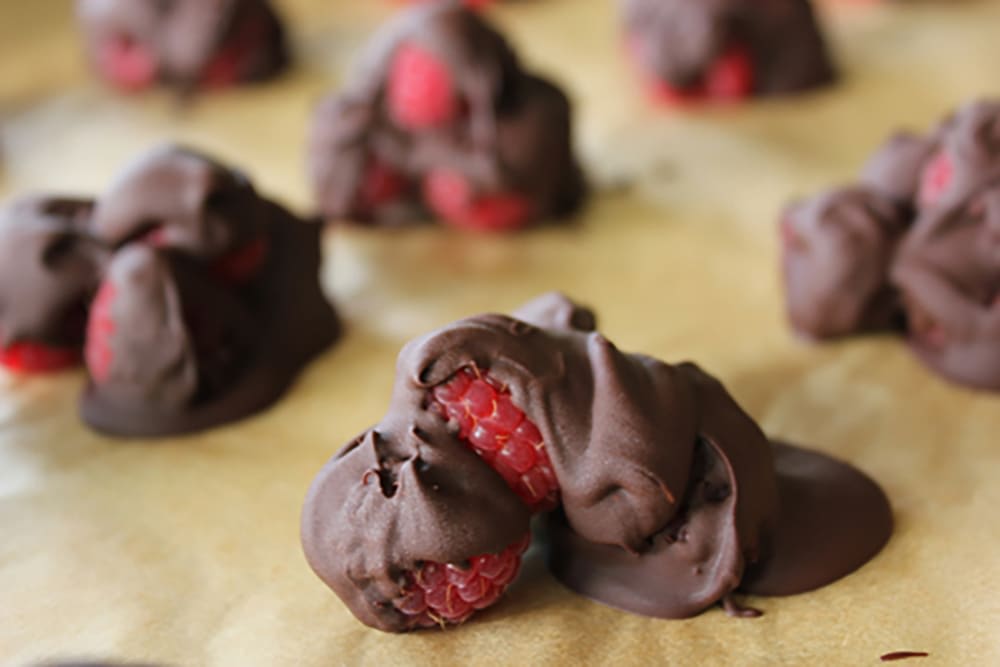 Prep time: 5 minutes
Cook time:5 minutes
Yield: 10-12
Ingredients
1 pint of fresh raspberries
1 bag semi-sweet chocolate chips or Hershey's special dark chips
Instructions
Melt chocolate chips in the microwave for one minute, continue in 30 second intervals until chocolate is completely melted.
Stir with a spoon until smooth.
Drop 3 to 4 raspberries at a time into melted chocolate, DO NOT MIX.
Take a spoon and carefully scoop the raspberry cluster out of the chocolate, so some fruit is covered with chocolate and some is showing.
Carefully drop the chocolate and raspberries onto a parchment lined cookie sheet.
Repeat until all raspberries are gone.
Refrigerate for 1 hour to set
Serve on a platter.
Notes
Created By | Pepper Weinglass