Lamb is one of my favorite meats. It's rich in high-quality protein and many vitamins and minerals, and lamb can be an excellent component of a healthy diet. Marinated racks of lamb or lamb chops are always a favorite!
I ABSOLUTELY LOVE THIS RECIPE FOR CILANTRO, HONEY-MARINATED RACK OF LAMB!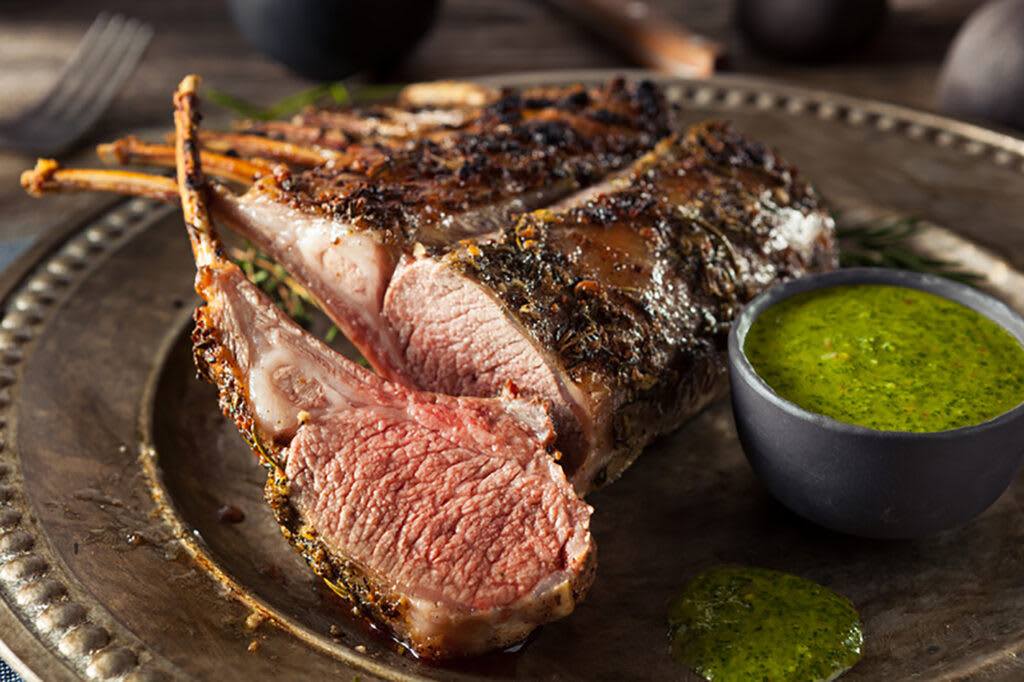 This recipe for a rack of lamb is from one of my favorite chefs, Yotam Ottolenghi. It is both sweet and spicy and very versatile. I made it with loin chops and frenched rib chops on the grill. I prefer the rib chops for the presentation. A rack of lamb roasted in the oven would also be incredible. Lamb lollipops can also be used as an impressive appetizer. One of my favorite purveyors for lamb is
Allen Brothers; th
ey source from around the globe and offer a great selection of exceptional domestic and Australian lamb.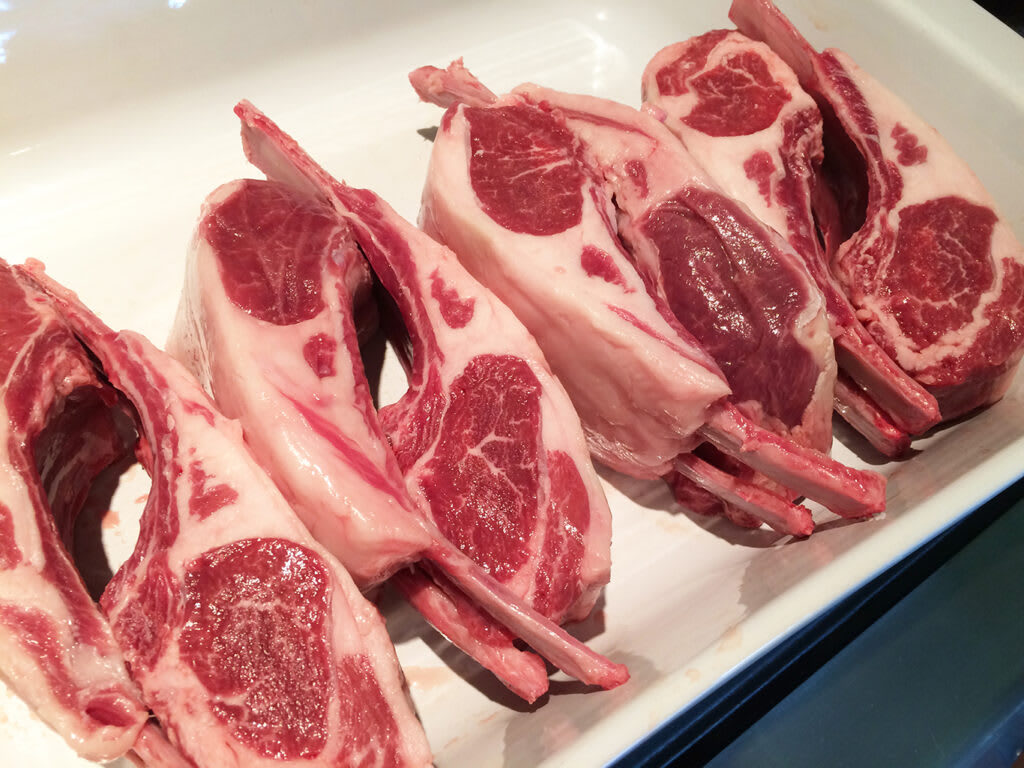 I highly recommend taking the time to marinate the lamb overnight. The extra time adds an incredible depth of flavor. Any leftover lamb can be thinly sliced and used to fill a panini. A great reason to plan a dinner party and a picnic the next day!
The marinade is so tasty and makes a wonderful sauce.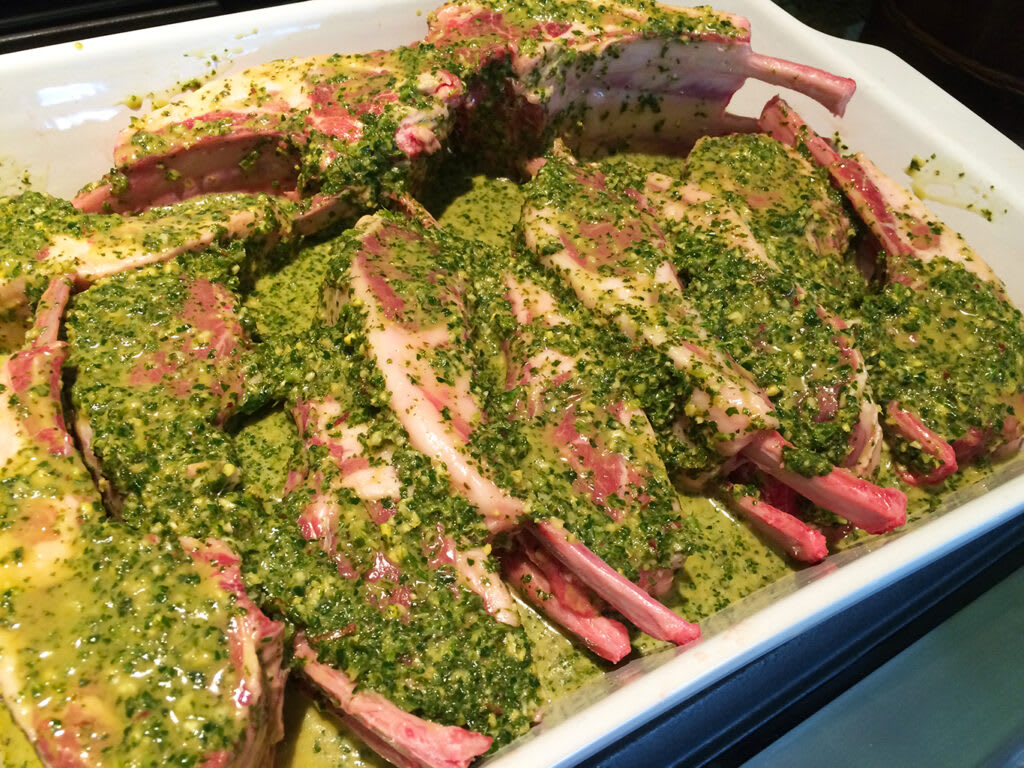 I often serve the lamb
with rice or potatoes. Grilled Naan is also a must; it doesn't seem to matter how much I make. It always runs out. I also serve a Lemony Garlicky Hummus (thanks, Mom) and a thick Greek yogurt that I mix with garlic, dried mint, and salt!
As always, I recommend mise on the place for your ingredients, which is a French culinary phrase that means "putting in place" or "everything in its place."
Cilantro, Honey Marinated Rack of Lamb
I absolutely love this recipe for Cilantro, Honey Marinated Rack of Lamb! The balance of flavors is incredible. It is also an impressive dish to serve at a dinner party or you can use lamb lollipops and serve as an appetizer.
Author: Soffia Wardy.
Prep Time:

12-24 hr.

Cook Time:

25 min.

Total Time:

24 hours.

Yield:

4 Servings.

Category:

Main Course.

Method:

Grill, Bake.

Cuisine:

Mediterranean.
• 2 1/4 lbs Rack Of Lamb (1 kilogram).
• 1/3 Cup Parsley (20 grams).
• 1/2 Cup Mint
leaves
(30 grams).
• 1/3 Cup Coriander
leaves
(cilantro) (30 grams).
• 4 Garlic Cloves.
• 2 Tablespoons Ginger Root (15 grams).
• 1/2 teaspoon of Salt.
• 3 Tablespoons Lemon Juice (50 grams).
• 1/4 Cup Soy Sauce (60 grams).
• 3 Chiles (Serrano or Jalapeño).
• 1/2 Cup Vegetable oil (120 grams).
• 3 tablespoons of Honey.
• 2 tablespoons of Red Wine Vinegar.
• 4 tablespoons of Water.
INSTRUCTIONS
Make sure most of the fat is trimmed off the lamb, leaving a uniform thin layer that will keep the meat moist and add to the flavor. You can also purchase frenched chops.
Use a very sharp knife to separate the rack into portions of two or three cutlets.
Blitz together all the remaining ingredients in a food processor and then pour over the lamb and making sure every piece is well covered.
Place in a non-metal container or Ziploc bag and refrigerate overnight.
Preheat one side of a gas or charcoal grill over medium-high heat, or if using the oven to 400.
If cooking in the oven, heat up a heavy cast-iron pan, preferably a ridged grill pan.
Remove the meat from the marinade and shake off the excess.
Sear well on all sides, about 5 minutes total. Transfer to a baking sheet and cook in the oven for about 15 minutes.
If using a grill sear both sides of the chops well, on the hotter side of the grill. Then move the chops to the cooler side of the grill and finish cooking over indirect heat to the preferred temperature.
Meanwhile, heat the marinade in a small saucepan and simmer for 5 minutes. Put the chops on serving plates and serve the sauce in a separate bowl or over the chops. Both the chops and the sauce can be served hot or at room temperature.