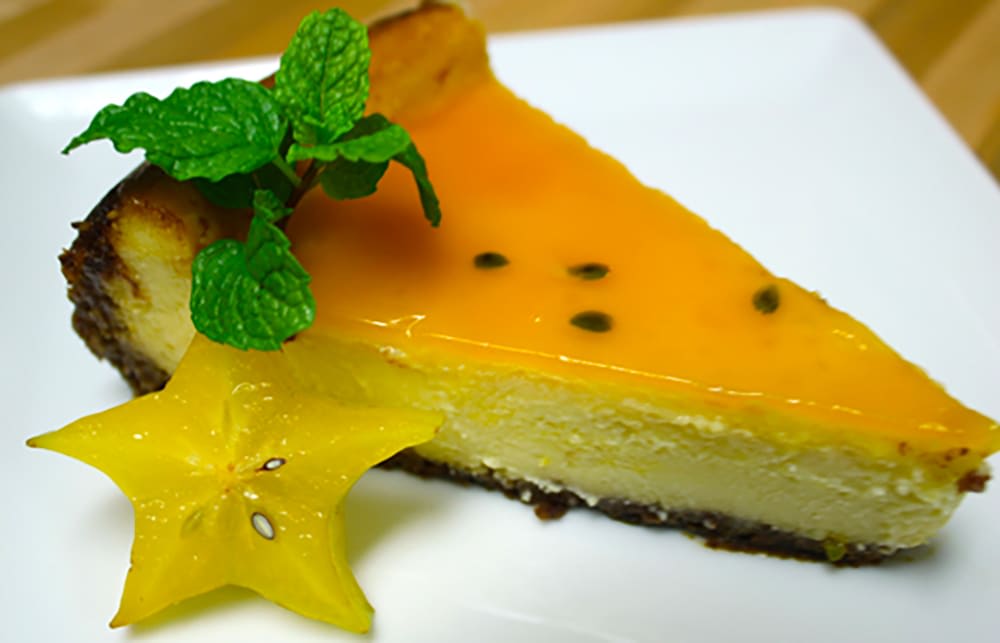 Can you imagine anything more amazing than Coconut and Lilikoi (Passion Fruit) on the same plate.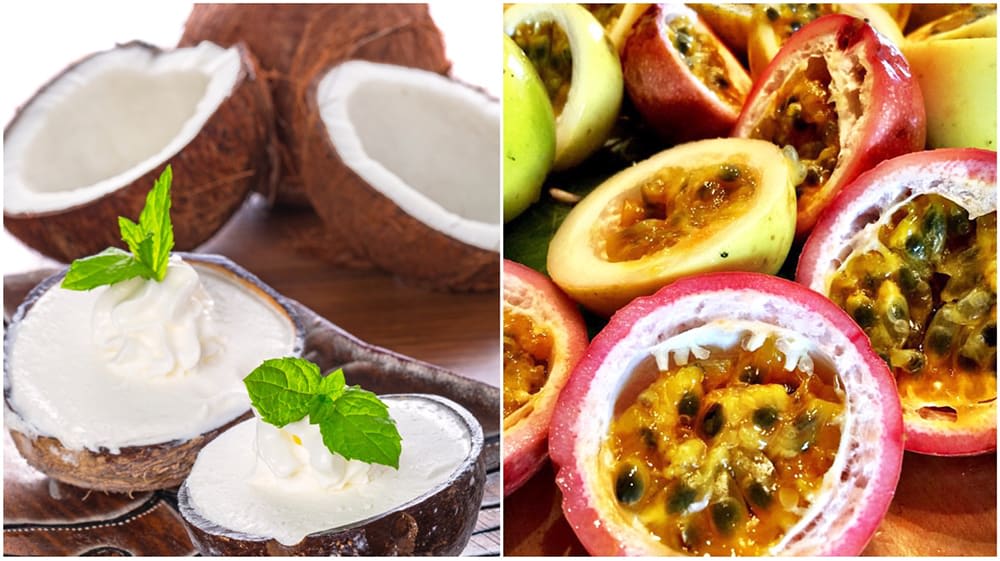 The flavors sing together in perfect harmony to create a delicious, unforgettable taste explosion in your mouth. This is one of our favorite deserts and can me made in a variety of sizes and presentations. Enjoy a few of ours.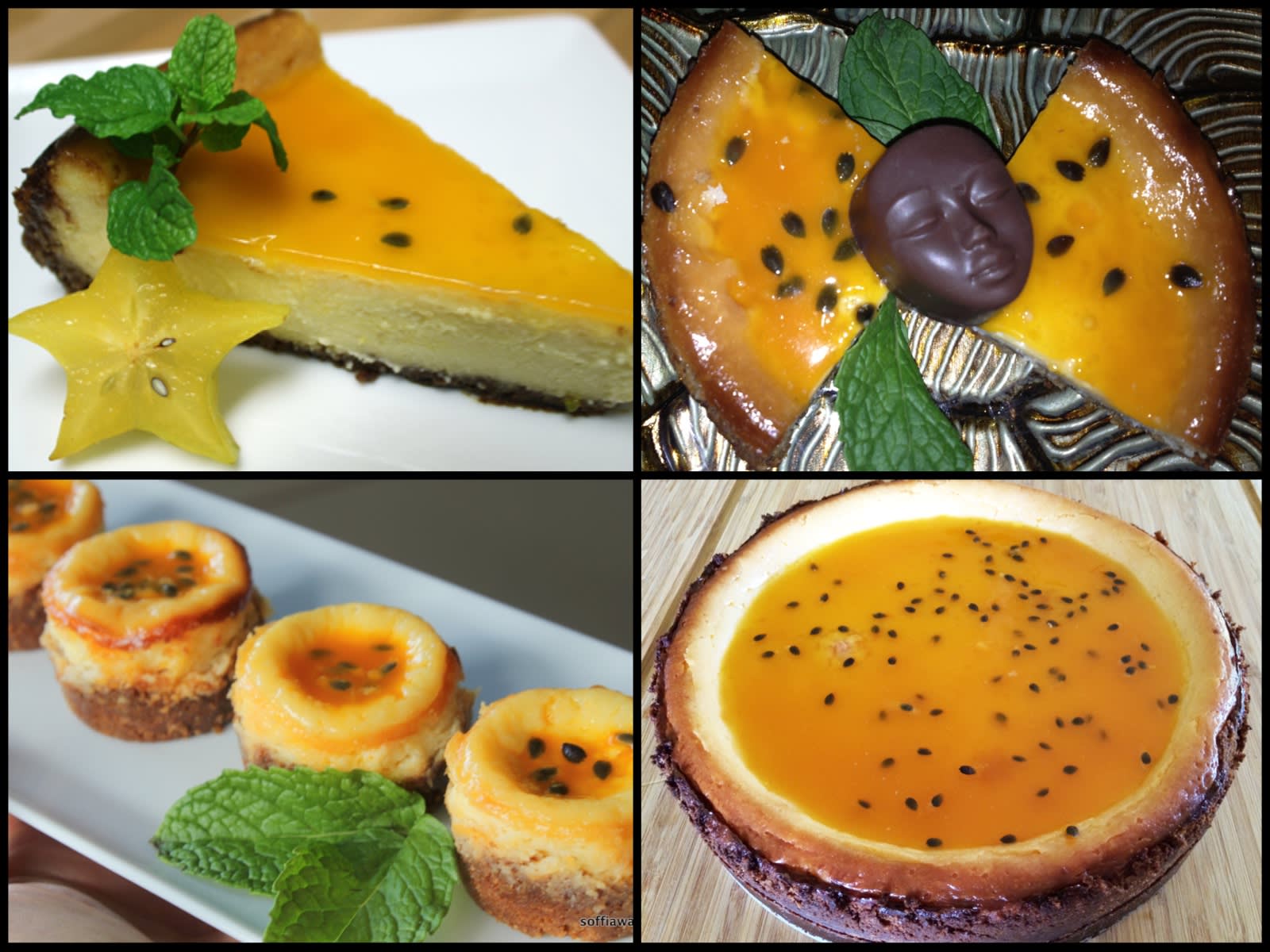 Coconut Cheesecake with Lilikoi Glaze
Prep Time: 1 hour
Cook Time: 1 hour 45 minutes
Total Time: 2 hours 45 minutes
INGREDIENTS
Crust
2 cup unsweetened coconut flakes
1 cup graham cracker crumbs
1/4 cup sugar
1/4 cup (1/2 stick) unsalted butter, cut in small cubes
Filling
4–8 oz. packages of cream cheese (do not use lowfat or fat-free
2/3 cup sugar
1–15 oz. can Cream of Coconut (Coco Lopez)
1/4 tsp real vanilla extract (or Coconut Extract)
1/8 tsp salt
5 large eggs (room temperature)
Glaze
1 Tbsp water
1/2 packet unflavored gelatin
1/2 cup Lilikoi juice (save 25–30 seeds)
3 Tbsp plus 2 tsp sugar
INSTRUCTIONS
Crust
Preheat oven to 350 degrees.
Blend all ingredients in processor until finely ground and sticking together, 1 to 2 minutes.
Press crumb mixture onto bottom and 3 inches up sides of a 9-in-springform pan.
Bake crust until golden, 14 to 15 mins.
Cool crust on rack.
Increase oven temp to 425 degrees and proceed to filling.
Filling
Blend cream cheese in processor until smooth, scraping sides and bottom of bowl.
Add sugar. Using on/off process to blend, scraping sides and bottom.
Add cream of coconut, vanilla, and salt: blend 20 seconds, stopping to scrape sides.
Add eggs 1 at a time; process to blend after each egg. Pour filling into crust.
Bake cheesecake 10 minutes.
Reduce oven temperature to 250 degrees.
Bake until center is softly set, about 1 hour and 35 minutes longer.
Turn off oven. Keeping door closed, cool/leave cake in oven for 1 hour.
Refrigerate cake, uncovered, at least 12 hours or overnight.
Glaze
Place 1 Tbsp water in small cup; sprinkle 1/2 gelatin over. Let stand for 10 minutes until gelatin softens set aside.
Place strainer over a 2-cup measuring cup. Cut Lilikoi (passionfruit) in half, one at a time and spoon fruit including seeds into strainer. Using flexible rubber spatula press until 1/2 cup pulp (fruit and juices) is released into cup. Reserve 25-30 seeds .
Pour 1/2 cup Lilikoi (passion fruit) juice into small saucepan. Mix in 2 Tbsp plus 2 tsp sugar.
Stir over low heat until sugar dissolves and bubbles form at the edge of the pan.
Add gelatin mixture and stir 1 minute to dissolve. Cool 10 minutes; pour into the center of the cheesecake. Rotate and tilt cake until glaze is spread evenly over top. Sprinkle reserved seeds over glaze.
Chill cake to set glaze, at least 1 hour.
Can be made 1 day ahead, keep covered and chilled.
Cut around sides to release cake. Remove pan sides. Cut cheesecake into wedges.
Serve with a sprig of mint and slice of fruit garnish (we used starfruit).
NOTES
Adapted From | Bon Appetit
Nutrition
Serving Size: 12