Marshmallow Pretzel Pops are salty, sweet, and delicious. Wonderful for Valentine's or any sweet occasion. The way you create these is limited only by your imagination. Have fun trying different Super easy and delicious and a wonderful way to use leftover chocolate, nuts, and dried fruits. Enjoy combining different ingredients to create your own bark. These treats also make wonderful gifts wrapped in cellophane bags with bows.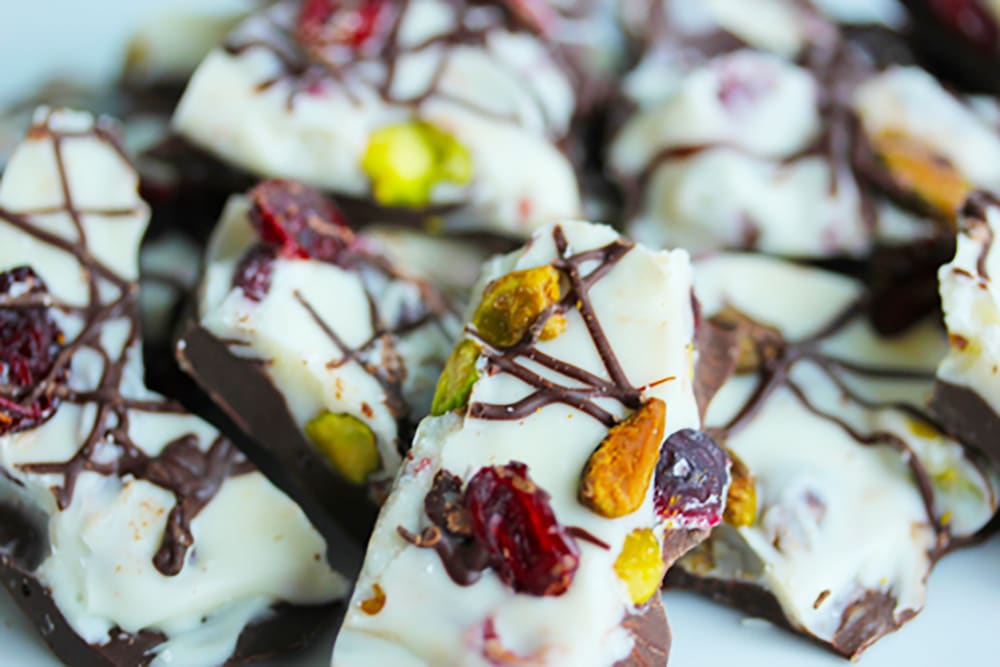 Be creative, add anything you like, any kind of nuts, candies, toffee, shredded coconut, etc.
Prep time: 10 minutes
Cook time:1 hour
Yield: 10-12
Ingredients
1 bag of semi-sweet chips
1 bag of white chocolate chips
3/4 C roasted salted shelled pistachio nuts
3/4 C sweetened dried cranberries
Instructions
In a double boiler or microwave, melt semi-sweet chips until smooth and creamy. If using microwave melt at 30 sec intervals.
Place 1/4 C of melted chocolate in sandwich bag and twist shut and set aside.
Line cookie sheet with parchment paper.
Pour remaining melted semi-sweet chips onto parchment paper, smooth into an even layer with a spatula.
Chill in fridge for 30 mins.
In double boiler or microwave, melt white chocolate until smooth and creamy. If using microwave melt at 30 sec intervals.
Add cranberries and pistachios (reserving 1/4 C combined for topping) into the mixture and blend well.
Remove semi-sweet chocolate from the fridge, pour white chocolate mixture on top and spread evenly with spatula.
Take sandwich bag filled with semi-sweet chocolate and cut a small tip from one corner to create a piping bag.
Drizzle over mixture on cookie sheet in a zig zag motion, until bag is empty, sprinkle with reserved nuts and cranberries for color.
Place cookie sheet back in fridge for another 30 mins until hard and set.
Break into small pieces, store in a wax paper lined airtight container in the fridge. Allow to sit at room temperature prior to serving or serve chilled, according to preference.
Notes
Created By | Pepper Weinglass