Easter is such a wonderful time of year to have fun with color and eggs and bunnies and carrots, the list goes on. Did I mention chocolate, well that too! We were sitting around looking at a jumbo bag of plastic eggs we bought to lay around the dinner table and decided to try to turn them into cute place card holders. We were so pleased and hope you enjoy and try your hand at these fun place card/party favors for your next Easter celebration. They are also great to label dishes you are serving.
Enjoy, Be Inspired, and Happy Easter!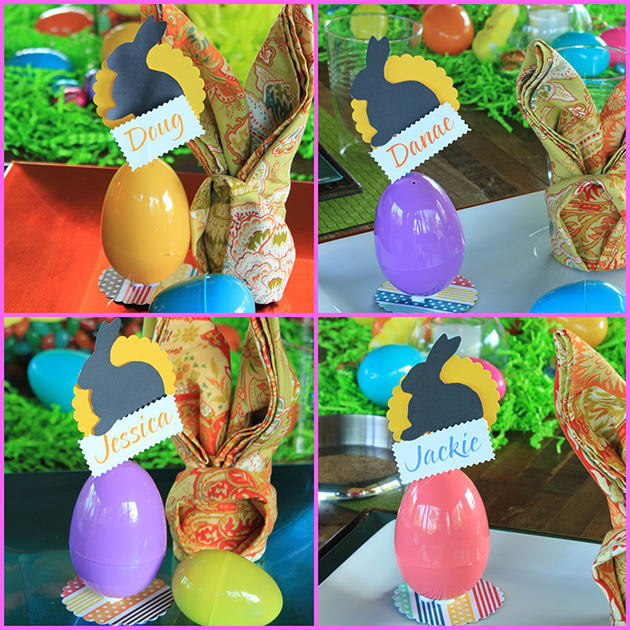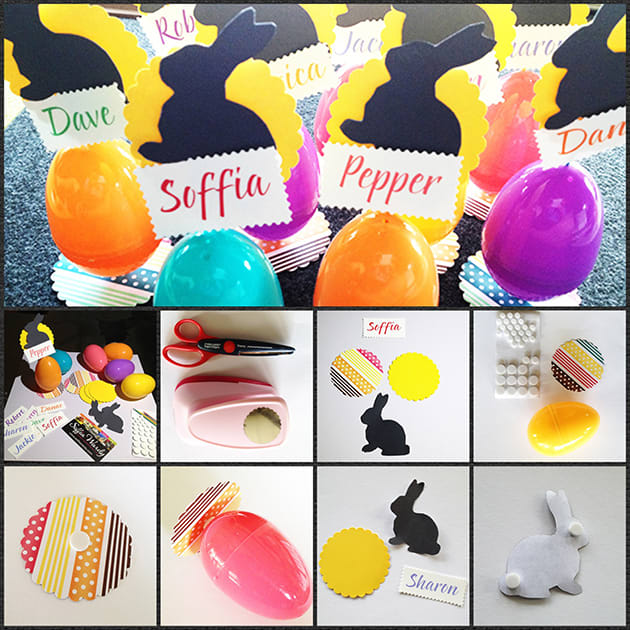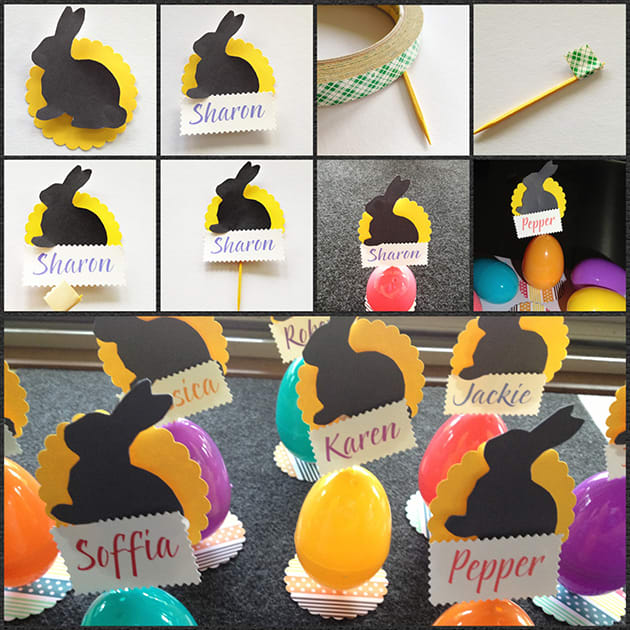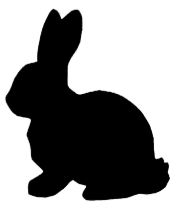 You will need a few tools, and then assembly is fun, quick and easy.
Materials
Medium-Large fill-able plastic Easter eggs.
Foam 2-sided sticky dots
Double stick tape
Jumbo round paper punch (to cut out the circles)
Bunny pattern (above)
Patterned edge scissors
Colored and or patterned construction paper
Toothpicks
Candy
Instructions
Choose an assortment of egg colors based on the number you will be using. For example if you need eight eggs and you have 4 colors then use two of each color.
Punch out or cut out 2 circles, large enough for the egg to sit on top of. You will need one for the base of the egg and one for the name card. Cut one using solid paper and one using printed paper, (to add color and variety)
Print out multiples of the cute bunny clip art above and cut them out.
Print out name cards using assorted colors in a fun font, cut them out in a rectangle shape around each name, using the patterned edge scissors (sizes will vary-based on name length).
Using a larger sticky dot attached to the center of one of the paper circles attach the egg.
Place two sticky dots on the back of the bunny and stick her to the other round paper cut out.
Place one dot on one edge of the name tag and stick to the bunny, tucking the other side under the bunnies paw.
Wrap a piece of double stick tape around the top of a tooth pick and stick it up and between the circle and the bunny.
Stick the bunny name tag into one of the holes at the top of the egg and press in until the tooth pick is no longer visible.
Fill each egg with candy and set at each place on the table. Make sure guest take home their party favors.
Try This Fun Flower Arrangement!
Take a large square vase, fill it 1/4 of the way with jelly beans in assorted or a solid color.

Nest a smaller vase inside, leaving enough room all the way around to insert a row of peep bunnies in between the two vases.

Put some colorful flowers in the smaller vase and voila!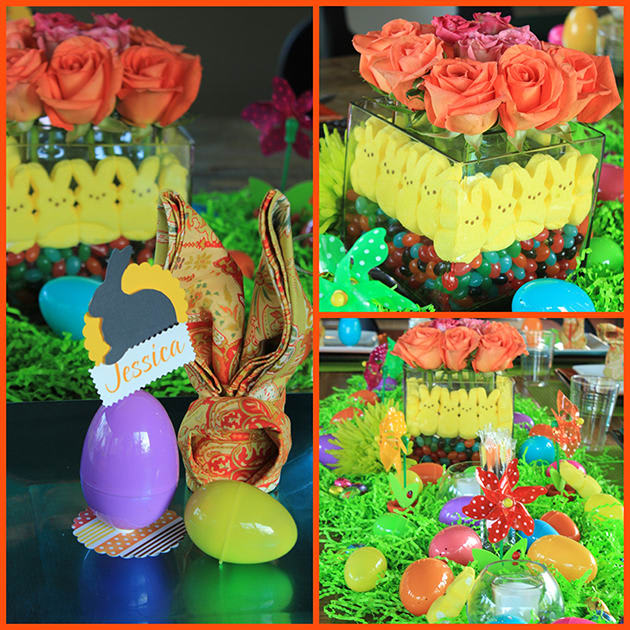 As a final touch learn how to turn your dinner napkins into Easter Bunnies, to make your table beautiful and festive!