Grande yum factor in this dessert! Let's break it down, creamy, cheesy, spicy, sweet, decadent, rich, and basically just totally awesome. Amen Wardy, Spicy Sweet Jalapeños are so delicious, we use them for everything from entrees to desserts and sides. Adding them to a cheesecake, resulted in a dessert that was fantastic and over the top. We also love these peppers served alongside our
Savory Beef Tenderloin with Whipped Cream Horseradish.
You also must also try the
Amen Wardy Spicy Corn & Crab Dip
and the best
Heavenly Hot Dog
ever!
Amen Wardy's Incredibly Addictive Spicy Sweet Jalapeño Slices
If you've tried these
tasty jalapeños,
then you get it! If you haven't then you are in for a treat. Give Amen Wardy Aspen a call to order,
(970) 920-7700.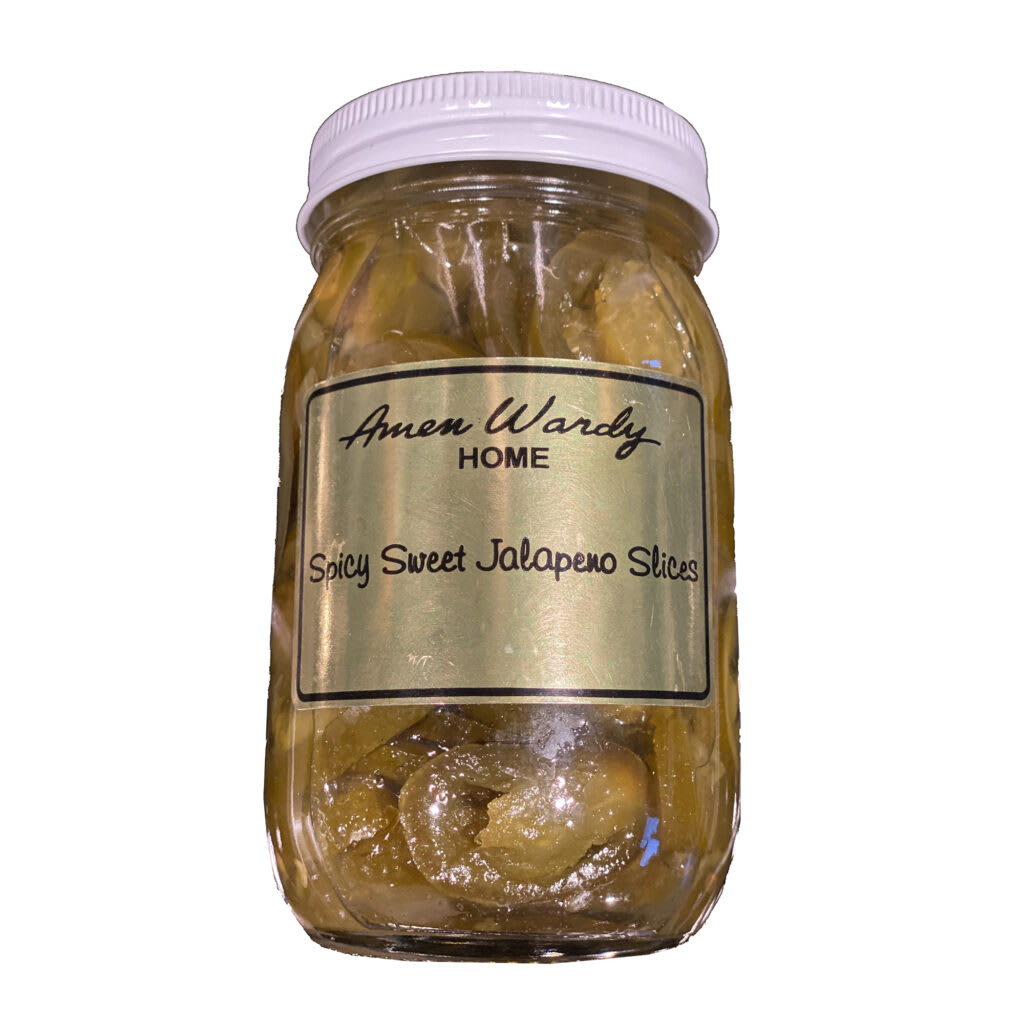 Mixing goat cheese with cream cheese gives the cheesecake a tang that's similar to that of an old-fashioned cheesecake. The addition of spicy, sweet jalapeños creates an element of surprise in every bite that makes this dessert absolutely incredible.
Ingredients
Special Tools
Stand Mixer, Paddle Attachment

9

" x 3″ Spring Form Pan
Fine Mesh Sieve
Sheet Pan
Heavy Duty Aluminum Foil
Digital Thermometer
Crust
7 ounces

of graham crackers

3 tablespoons

sugar
Pinch of Kosher or Sea Salt

6 tablespoons

of butter-melted
Cheesecake Filling
4

–

8

ounce blocks of Philadelphia Cream Cheese (at room temperature)

8 ounces

of plain fresh goat cheese (at room temperature)

1 tablespoon

of vanilla extract

2 cups

of sugar

2 Tablespoon

lemon juice

1/4 teaspoon

of Kosher Salt

6

eggs at room temperature, whisked and strained through a fine-mesh sieve

6 ounces

heavy cream (about

3/4 cup

)

4 tablespoons

of Amen Wardy, Spicy Sweet Jalapeños, chopped or

2 tablespoons

of fresh Jalapeños, seeded and chopped, more or less to taste depending on heat and preference for spice level.
Instructions
Prep
Preheat oven to 325℉, adjust oven rack to the middle position.
Wrap the bottom portion of pan with foil, assemble, and lightly grease the interior of pan with butter.
Crust
Process graham crackers in a food processor to create crumbs.
Mix crumbs, sugar, salt & melted butter in a bowl to combine.
Pour into the foil lined spring form and press down using the bottom of a flat glass to create an even layer.
Bake at 325℉ for 10-12 minutes until fragrant and slightly browning.
Remove from the oven to cool. Raise oven temperature to 450℉.
Proceed to prepare filling.
Filling
Using a mixer with a paddle attachment, combine cream cheese, goat cheese, lemon juice, vanilla extract and salt on low speed (reserve sugar). Increase speed to medium and cream mixture until smooth. Scrape the bowl and beater as necessary.
Reduce the speed to medium-low and add the sugar all together to combine. Add the whisked, strained eggs to combine. Add the chopped jalapeños to combine. Stop the mixer and proceed to the next step.
In a small saucepan, bring the cream to a full boil. Return to the mixer and start on low, add the hot cream in a steady, slow stream. Warming the batter will help release air pockets and reduce bake time.
Use the filling immediately, or refrigerate in an airtight container for up to one week. Bring cold batter to room temperature before baking.
Baking
Pour batter over cooled crust and place on a baking sheet. If you notice air bubbles, bounce a spoon across the surface to dissipate the bubbles.
Bake at 450℉ until the cheesecake is puffed and dry to the touch around the edges, about 20 minute. It may also have golden patches along the surface. Rotate the baking sheet halfway through to ensure even browning.
Turn the oven off, open the door and leave it slightly open, allowing the cheesecake to continue cooking for 10 minutes from the residual heat. Close the door and reduce the oven temperature to 250 °F. Continue baking about 35 minutes until the outer edge of the cheesecake feels firm, the innermost ring of cheesecake will wobble quite freely if you shake the pan. This wobbly zone should be no more than 3-inches across. Stick a digital thermometer 2″ inches straight into the center. The cheesecake is done at 145 °F. Testing with a thermometer will not cause the cheesecake to crack; cracking is the result of over-baking.
Let the cheesecake cool for 15 minutes, then run a thin knife or offset spatula around the sides to loosen and help the cake settle evenly as it cools. Continue letting it cool at room temperature for at least 1 hour (or up to 4) before covering with plastic wrap pr foil. Refrigerate until it's cold to the core, at least 12 hours.
The Big Reveal

Place the pan on a flat work surface. Using a thin knife or offset spatula, loosen the sides of cheesecake from the pan. Release spring form clasp and remove ring. Using a large offset spatula, loosen cake from bottom of pan and transfer to a large, flat serving plate. 

To slice: Run a large, sharp knife under hot water before cutting. Garnish with sliced Spicy Jazzy Jalapeños.
To store: Cover cake with plastic wrap and refrigerate up to 1 week, or freeze up to 1 month.
Notes
Did You Make This Recipe?