"Lahm Mishwi" also known as "Shish Kabob" or "Lamb Skewers" is absolutely delicious and a dish my grandparents made often as I was growing up. The kabobs are traditionally made with leg of lamb but if you prefer beef, you may use rump roast or other lean beef. One of my favorite flavors in our Lebanese kitchen was always the salad dressing, which simply consists of garlic, lemon juice and olive oil. The dressing makes the perfect marinade for the kabobs and served with yogurt and Syrian bread or pita bread is a heavenly bite from my childhood.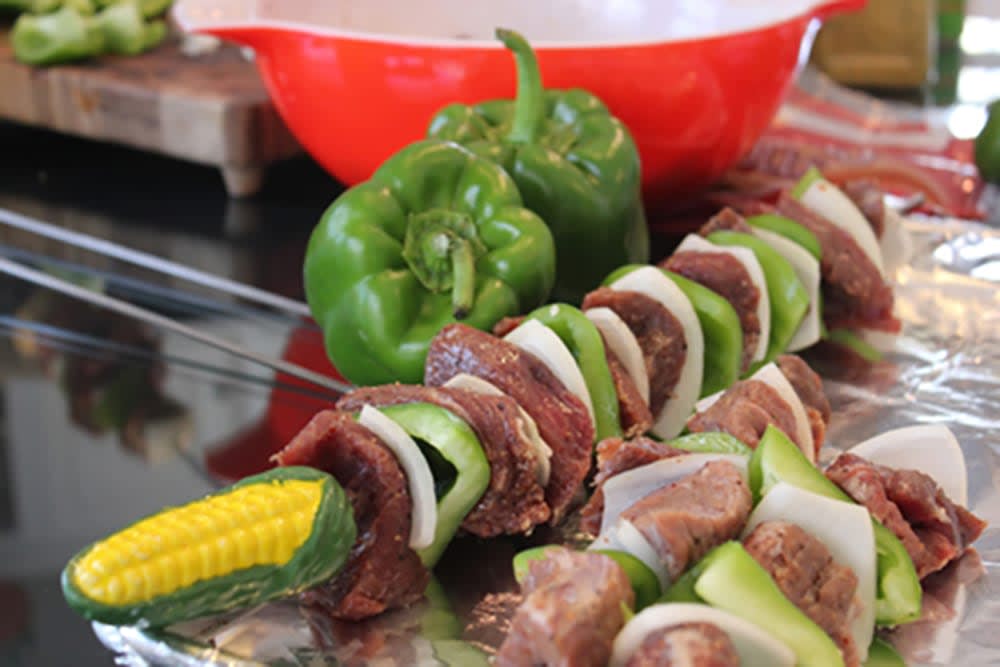 People often ask which lamb is best Domestic, Australian or New Zealand. Stores in the US usually offer a choice, maybe this will help you decide. Domestic lamb tends to be larger based on diet and genetics. It is often finished on grains to add bulk which is said to make the meat slightly milder. Australian & New Zealand lamb is raised almost exclusively on a diet of grasses.
Lamb Shish Kabob-(Lahm Mishwi)
Prep Time:

3 hours 30 minutes

Cook Time:

15 minutes

Total Time:

3 hours 45 minutes
Shish Kabobs
2

lb. leg of lamb, fat trimmed and cubed into

2

" pieces

2

large onions, cut into

2

" chunks

3

bell peppers, cut into squares
salt & pepper
Marinade
1

lemon, juiced

2

T olive oil

1

T garlic finely chopped
Yogurt Sauce
1 quart

of plain laban or greek yogurt

1/2

t dried mint, crushed

1

clove of garlic, finely chopped
For Serving
INSTRUCTIONS
Shish Kabobs
In a large bowl mix the cubed meat, bell pepper, onion, salt, pepper, lemon juice, garlic and olive oil together. Cover and refrigerate 2-3 hours. Skewer meat, bell pepper and onion alternating. Grill over hot coals or on a gas grill. Serve with yogurt sauce, Syrian bread or pita.
Yogurt Sauce
Mix yogurt, mint and garlic together, garnish with a sprig of fresh mint and serve.
Bread
Bread may be warmed right on the grill.
NOTES
Inspired by my grandmother | Rose Wardy