This chicken is fresh, savory, simple, and incredibly flavorful. We especially like it with black beluga lentils but any variety of lentils would work well. If you prefer potatoes, we have listed that option below as well. A fresh green salad complements this meal perfectly. Enjoy with your favorite bottle of white wine.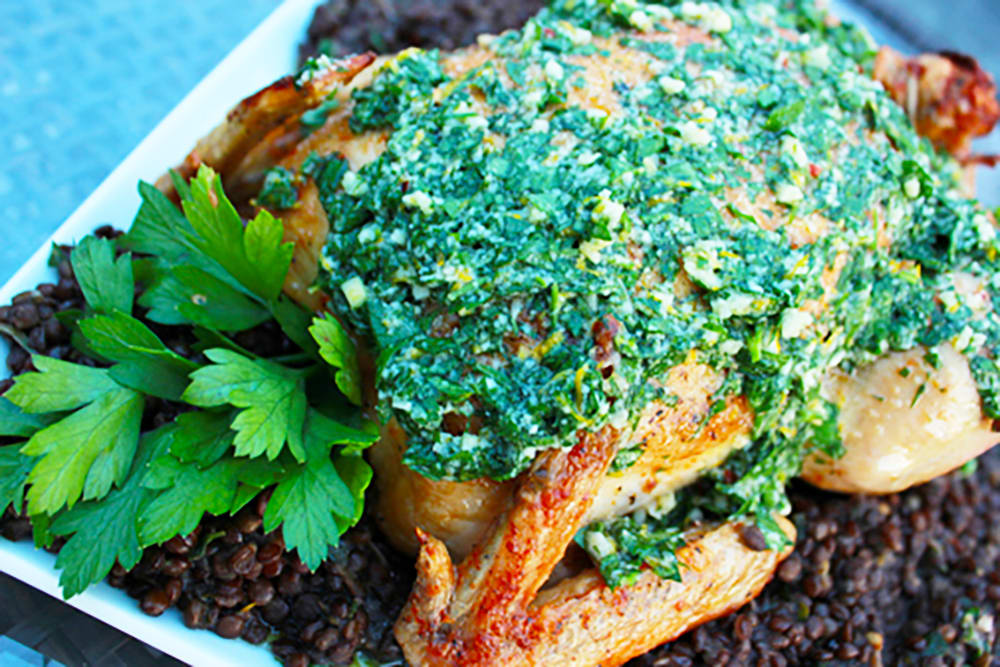 Prep time: 15 minutes
Cook time:1 hour 40 minutes
Ingredients
For Chicken
1 whole organic chicken.(about 3 1/2 Lbs.)
1/4 C extra virgin olive oil
coarse salt and freshly ground pepper
1/2 C finely chopped flat-leaf parsley
1 lemon halved
For Sauce
2 cloves garlic minced
1/2 C finely chopped flat-leaf parsley
1/2 C extra virgin olive oil
1 lemon zested (2 tsp) and juiced(1-1/2 Tbsp)
1/2 C grated Parmigiano-Reggiano
1/2 tsp coarse salt
pinch red pepper flakes
For Lentils (side option instead of potatoes)
2 C black beluga lentils
6 Tbsp olive oil
1 C finely chopped onion
2 tsp thyme
2 dried red chili pods
Salt and freshly ground pepper to taste
4 C organic chicken broth
For Potatoes (side option instead of lentils)
1 pound fingerling potatoes, halved or cut into thirds if large
2 Tbsp of olive oil
Instructions
For Chicken
Preheat oven to 425 degrees.
Place chicken breast side up, on baking sheet.
Rub with 2 Tbsp oil; season generously with salt and pepper,
Place parsley and one lemon half in cavity.
Tie legs together with kitchen twine.
Roast for 15 minutes. Reduce temp to 375 degrees.
Cook for 25 minutes.
Rotate pan,and cook until golden brown, and a thermometer inserted into the thickest part of the chicken's thigh reaches 165 degrees, about 25 minutes more.
Let chicken stand for 10 minutes.
For Sauce
Combine all ingredients.
After 10 minutes, brush sauce on chicken.
Lightly mix sauce with lentils.
For Lentils (side option instead of potatoes)
Sort Lentils and rinse with cool water.
Heat 4 Tbsp olive oil in saucepan over medium heat.
Add onion, thyme, chili, and 2 tsp salt and pinch of pepper.
Cook onion, stirring often, until soft about 5 minutes.
Add lentils and cook 2 minutes, stirring to coat lentils in the oil.
Add 4 cups chicken broth and bring to simmer.
Cook 30-40 minutes until lentils are tender.
Drain excess liquid
Add remaining 2 Tbsp olive oil, 2 Tbsp of the parsley sauce and if necessary salt, and pepper to taste, mix lightly.
For Potatoes (side option instead of lentils)
Toss potatoes and 2 Tbsp of olive oil.
Drizzle with juice from remaining lemon half.
Season with salt & pepper.
Scatter potatoes along the chicken.
Roast with chicken until golden brown.
Let stand for 10 minutes and drizzle with sauce along with the chicken
Notes
Adapted From | Martha Stewart
Nutrition