Any kind of mild, firm fish can be used for this recipe. The preparation is simple and flavorful. Serve with a fresh salad and enjoy with a nice bottle of white. The cauliflower puree is creamy and delicious and the salsa verde is the perfect complement and adds a beautiful rich color to the dish.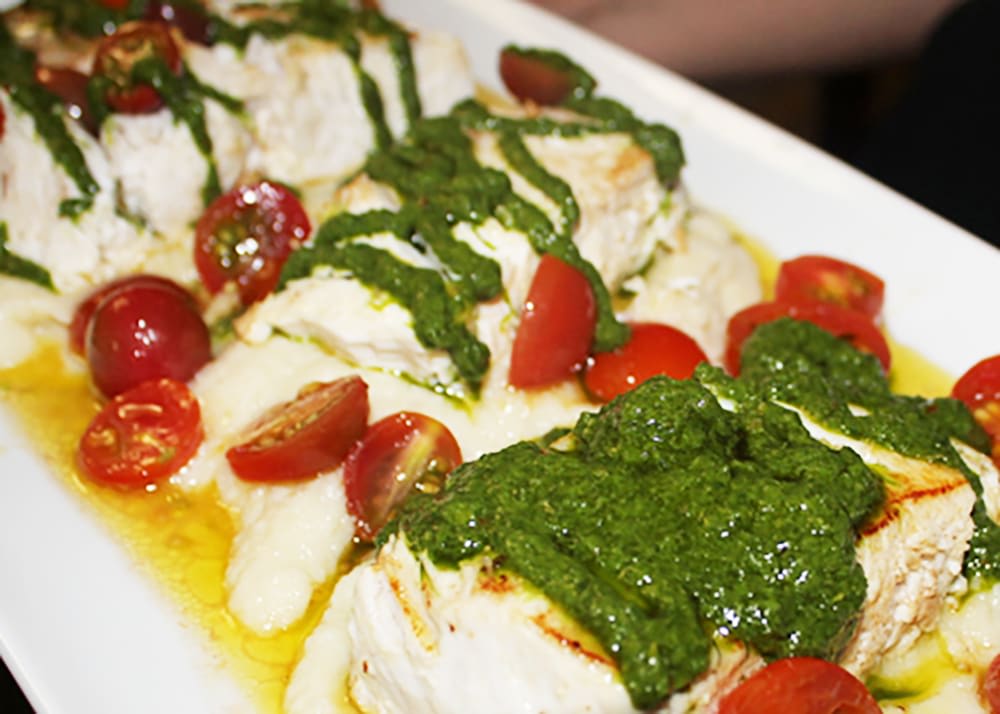 Prep time: 30 minutes
Cook time: 25 minutes
Ingredients
Fish
4-6 oz fillets of Mahi Mahi
Butter
Salt & Pepper
Cauliflower Puree
1 Bunch of cauliflower
2 Tbsp unsalted butter
Salt & Pepper
1/4 C water
Salsa Verde
1 C parsley chopped and loosely packed
1/4 C basil chopped and loosely packed
1 Tbsp capers
Zest of one lemon
1 Tbsp shallot, minced
2 anchovies
1/2 cup extra-virgin olive oil
Chile flakes
Salt & Pepper
4 sliced lemons
Instructions
Cauliflower Puree
Salt and Pepper the fillets and set aside.
Cauliflower Puree
Take the head of cauliflower and core and cut into small florets.
Put into steamer basket and steam until tender.
About 10-15 minutes
Add butter to blender, and add in steamed Cauliflower with the water.
Blend until smooth,
Salt and pepper to taste.
Keep warm and set aside.
Salsa Verde
Place all ingredients except the oil in a blender.
With the machine running pour into oil and blend until the sauce is smooth and bright green.
Put into squirt bottle, reserve.
Fish
Add butter to sauce pan until bubbly.
Add fish to hot pan and cook for 3 minutes per side until golden and crispy.
Set aside to assemble.
Assembly
Take Cauliflower Puree and put on bottom of plate.
Add fish fillet.
Drizzle Salsa Verde over the top of fish.
Top with sliced lemon
Serve
Notes
Created By | Pepper Weinglass
Nutrition