So refreshing and delicious! From the garden and the bottle, into your glass…This cocktail can be mixed in larger batches for a party. It's a wonderful twist on a classic.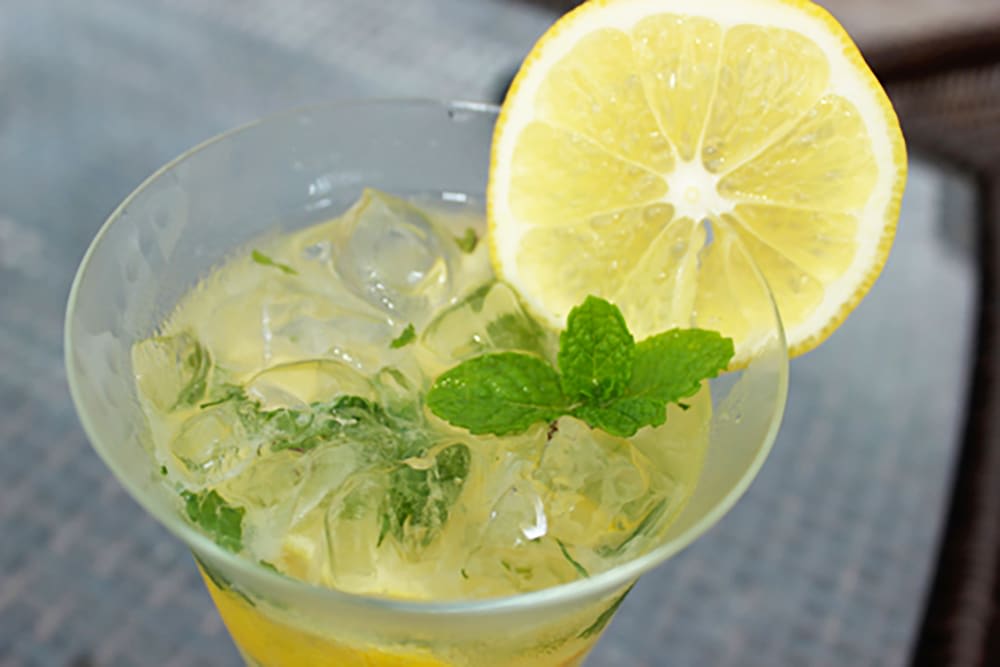 Meyer Lemons are sweeter than regular lemons, so if you use regular lemons, which I don't suggest, you might need more simple syrup.
Prep time: 5 minutes
Cook time:5 minutes
Ingredients
1/2 of the rind of a Meyer lemon, cut into small wedges
4 oz fresh squeezed Meyer lemon juice, save juice,
1/4 C of mint leaves
2 Tbsp simple syrup (sugar and water)
4 oz of citrus rum
Club soda
Ice
Instructions
Simple Syrup
Add equal parts granulated sugar and water to a small saucepan, bring to a boil for 1 to 2 minutes and lower heat to a simmer for 4-5 minutes. Remove from heat and add mint sprigs. Allow simple syrup to cool completely before using in your drink.
Mojito
Place 1/4 of the cut up rind, 1/2 of the Meyer lemon juice, simple syrup and mint leaves into a tall glass or cocktail shaker. Using a muddler, muddle the mint leaves and Meyer lemon rinds.
Add more simple syrup to taste if needed.
Transfer to glass along with the rest of the Meyer lemon juice.
Add club soda and/or rum along with ice. Give one quick stir with a spoon or drink stirrer and serve immediately.
Notes
Created By: Pepper Weinglass
Nutrition