Easy and light this tart showcases the sweeter side of a Meyer lemon. It's the perfect pairing to any meal. We served ours with passion fruit and lime zest strips, but it is also perfect with freshly made whipped cream and finished with some grated lime or lemon zest.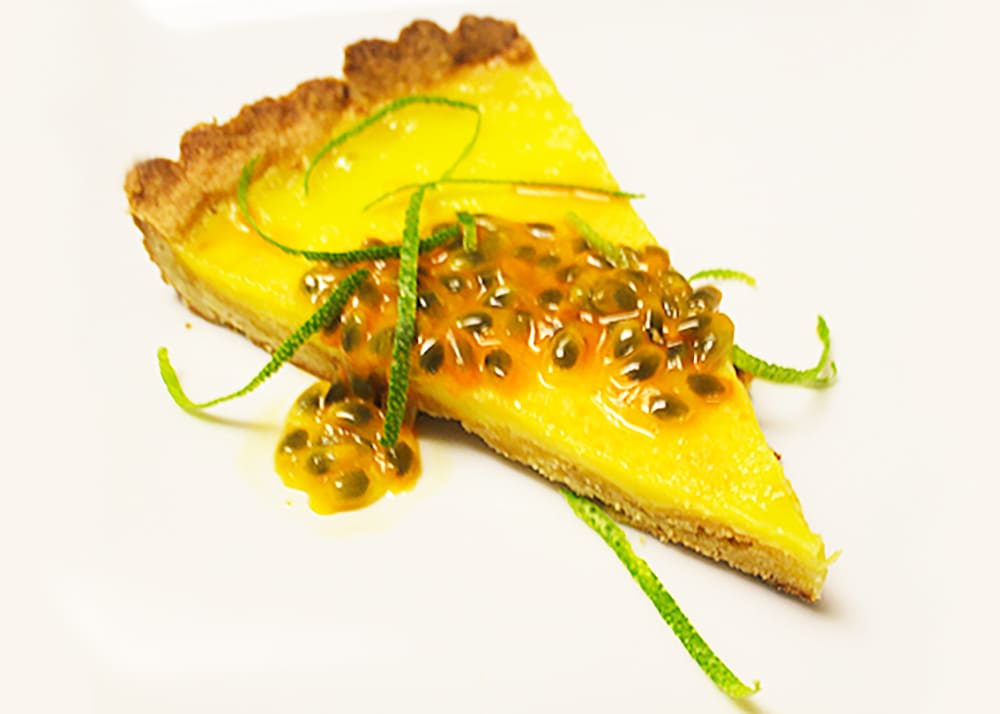 Prep time: 15 minutes
Cook time:45 minutes
Ingredients
Crust
175 grams all-purpose flour
140 grams unsalted butter, cold, but into small cubes
65 grams granulated sugar
1/4 tsp salt
1/2 tsp pure vanilla extract
3+ Tbsp ice water
Filling
4 egg yolks
1 1/2 tsp cornstarch
1/3 C sugar
1/3 C fresh-squeezed Meyer lemon juice
3/4 C heavy cream
Instructions
Crust
Combine flour, sugar and salt.
Cut in the cold butter until a meal is formed.
Add the vanilla and while you knead the dough, and the water a tablespoon at a time until it just comes together.
Roll into disk.
Wrap dough in plastic wrap and chill in the refrigerator for 1 hour.
Roll out the dough on a lightly floured surface to a thickness of 1/4 inch.
Place the crust in a prepared 9? tart pan.
Poke the crust with a fork and par-bake at 350° F for 20-25 minutes.
Cool
Filling
Whisk together all ingredients until smooth.
Pass mixture through a fine mesh strainer.
Pour mixture into prepared tart crust
Bake at 250° F for 18 minutes or until set.
Portion and serve.
Notes
Adapted From | Pastry Chef-Jimmy Subia
Nutrition