I have never been a big fan of marshmallows, then Pepper came up with these Nutty Buddy Marshmallow Pops. OMG were they ever amazing. Imagine soft, crunchy and chocolaty all at the same time.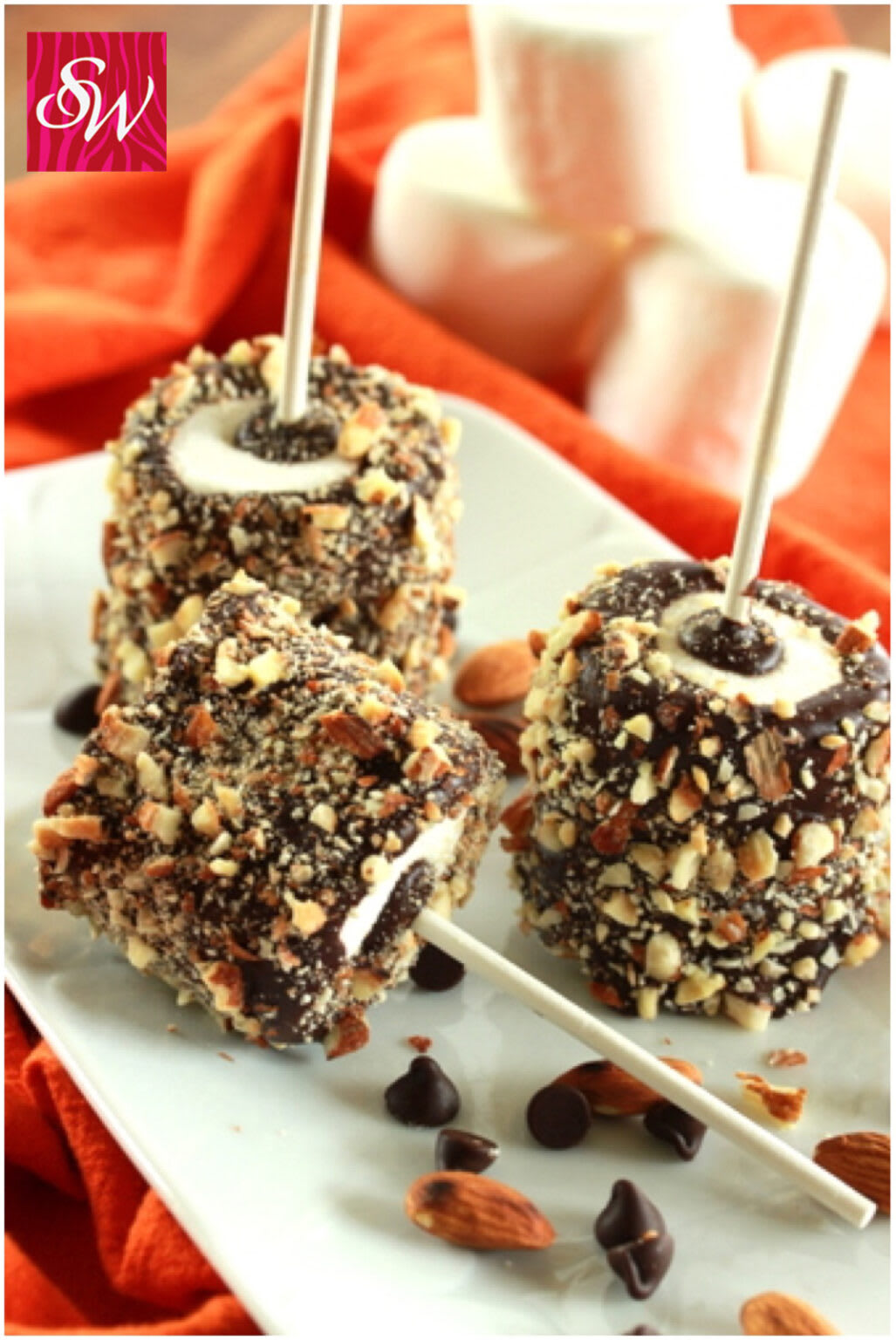 They remind me of the Nutty Buddy ice cream cones I loved as a child. She used chocolate to hold the stick in the marshmallow and that little piece of chocolate is exactly like the chocolate at the bottom of the cone. You know the one; that last delicious bite of chocolate. You won't be able to have just one so hide them from the kids! And absolutely try them at your next dinner party… They make a fun yet very elegant dessert.
Nutty Buddy Marshmallow Pop
Prep Time:

15 minutes

Cook Time:

30 minutes

Total Time:

45 minutes

Yield:

1

2

1

x
12

Jumbo Marshmallows

12

Paper Lollipop Sticks

1

Bag Dark Chocolate Chips

1 1/2 tsp

Fleur de Sel

1 1/2

C Roasted Chopped Almonds
INSTRUCTIONS
Cover a large cookie sheet with a piece of parchment paper.
Lay out marshmallows and lollipop sticks.
Roast or toast almonds, chop into small pieces.
Using a glass bowl and microwave, melt dark chocolate chips at 30 sec intervals until it appears silky smooth and can be easily stirred.
Take lollipop stick and dip into chocolate about 1 inch, then stick it into the end of the marshmallow. The chocolate will help hold the marshmallow to the stick.
Set on the cookie sheet and chill in the refrigerator for 15 minutes until set.
Microwave again if chocolate starts to cool.
Take cooled marshmallows and dip into the warm chocolate until almost covered, hold and swirl to allow excess chocolate to drip away.
Lightly sprinkle with fleur de sel on all sides.
Dip end in almonds and sprinkle all around to cover top and sides of marshmallow.
Return to the refrigerator 30-45 minutes to set and serve.