Buckwheat Blinis Topped With Petrossian Caviar
Caviar is pure perfection in it's simplest form, and sublime when served on, Buckwheat Blinis. Our favorite caviars come from
Petrossian
. Try this recipe, and let us know what you think. For more on Petrossian caviar take a look at,
Caviar Dreams.
To create a beautiful caviar service like the one below, grate egg whites and egg yolks separately. Finely slice chives, mince white onion and serve each separately alongside your favorite caviar with some crème fraîche or sour cream. For the recipe and additional examples of a caviar service read,
Caviar: Red Carpet Into The New Year
.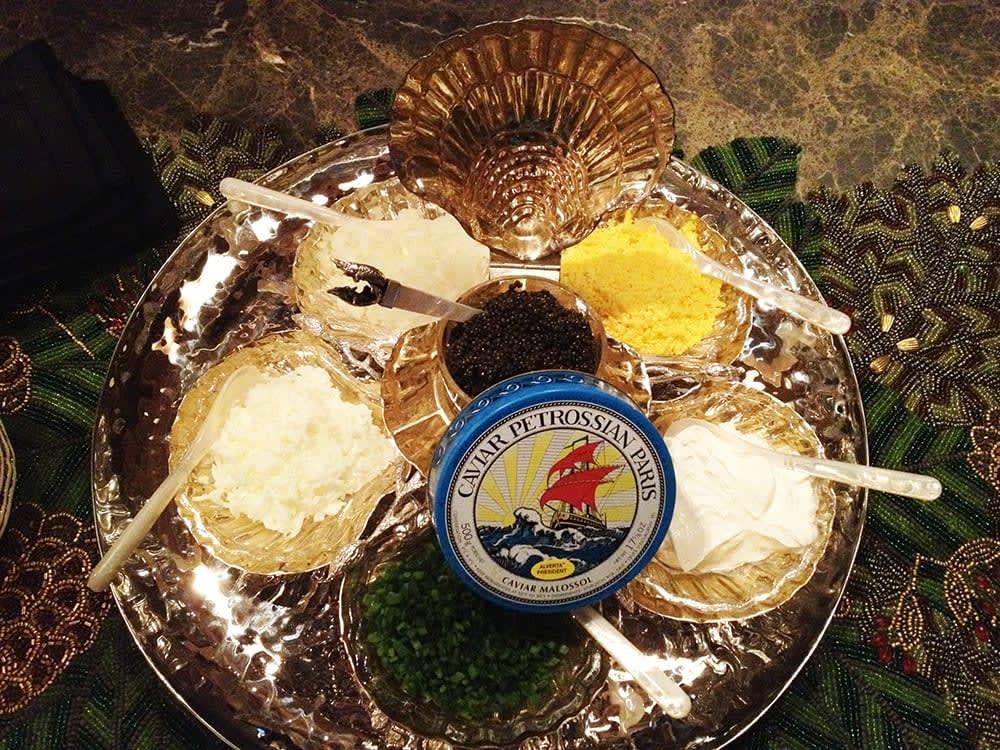 Prep time: 15 minutes
Cook time:20 minutes
Total time: 35 minutes
Yield: 18 Blinis
Ingredients
Caviar
1 ounce Petrossian Caviar
For Blinis
1/3 cup Buckwheat Flour
2/3 cup All Purpose Flour
1/2 teaspoon Baking Powder
3/4 teaspoon Kosher Salt
3/4 cup plus 2 tablespoon Buttermilk
1 extra large Egg
1/4 pound (1 stick unsalted butter, clarified, divided
Chive Sour Cream
1 cup sour cream
3 tablespoons fresh chives, finely minced
Kosher salt and fresh black pepper to taste
1 tablespoon fresh lemon juice
Instructions
For Blinis
Combine the two flours, baking powder and salt in a bowl. In a separate bowl whisk together the milk, egg and 1 tablespoon of the clarified butter, then whisk in the flour mixture. Let the batter rest for 15 minutes.
Heat 1 tablespoon of the clarified butter in a medium Saute pan and drop the batter into the hot skillet, 1 tablespoon at the time . Cook over medium-low heat until bubbles form on the top side of the blini, about two minutes. Flip and cook for another minute or until brown. Repeat with the remaining batter. Clean the pan with a dry paper towel between batches. Set aside and keep warm or serve right away with Caviar and Chive Sour Cream.
Chive Sour Cream
In a small mixing bowl mix the sour cream and chives and lemon juice together.
Season with salt and fresh black pepper.
Notes
Caviar is salty, so it's important to season the sour cream lightly. To assemble place blinis on a serving platter. Dollop a teaspoon of sour cream on each blini and top with caviar.