Heirloom tomatoes are what tomatoes used to be before all of the variety and flavor was bred out of them so they could be more easily transported in trucks to supermarkets. You can find them at farmers markets or you can grow your own. They come in many shades of red, yellow, orange, and green, and are somewhat oddly shaped compared to everyday beefsteak tomatoes.
And don't forget presentation is everything!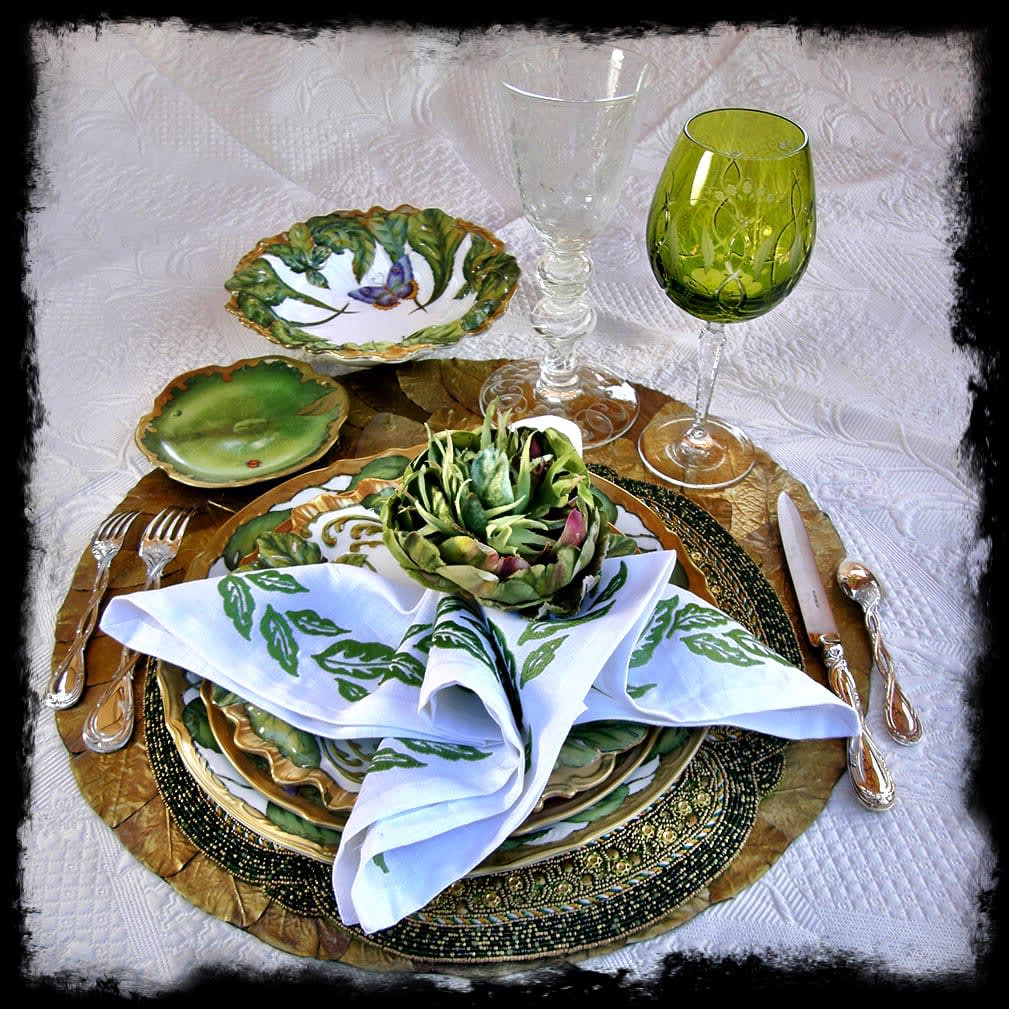 Author: Soffia Wardy
Cook Time: 15
Yield: 8 1x
Prep Time: 90
Total Time: 1 hour 45 minutes
Ingredients
8

medium heirloom tomatoes

1

tbsp.

honey

1

tbsp.

Dijon mustard

1

c

extra virgin olive oil

1/4

c

black fig balsamic vinegar

1/2

tbsp.

garlic, finely chopped

1

tbsp.

shallots, finely chopped

1

tbsp.

green Tabasco sauce

1/2

tbsp.

granulated sugar

2

tbsp.

fresh squeezed lime juice

1/2

c

crème fraîche or sour cream

1

small avocado

3

c

organic arugula

1

tbsp.

grated Parmesan cheese

1

tbsp.

toasted pine nuts

Kosher Salt and fresh ground black pepper
Instructions
Place the tomatoes in simmering water for 10 seconds, cool in ice water for 15 seconds. Peel and set aside.
Crème
Place avocado pulp in a small bowl. Using a fork, mash the avocado until smooth and there are no visible lumps.
Add crème fraîche or sour cream, lime juice, sugar, green Tabasco sauce, and season with salt and fresh ground black pepper; fold together.
Cover and refrigerate for a least one hour, or until thick.
Vinaigrette
Slowly toast the garlic and shallots in a cup of the olive oil until light golden brown. Be careful not to burn.
Transfer to a medium bowl; add the mustard, vinegar and honey.
Slowly whisk in olive oil until the vinaigrette is smooth and the ingredients are combined, season with salt and pepper to taste.
Assembly
Cut each tomato horizontally into four slices.
Add a small amount of avocado crème on a serving plate, place tomato slice on top, layer the remaining slices with crème until you have a small tomato-avocado tower.
Toss arugula salad with the vinaigrette and place the salad mix on top of the tomato tower.
Sprinkle with grated Parmesan cheese and toasted pine nuts.
Serve on a beautiful place setting, like these hand-painted porcelain dishes by Anna Weatherly. available at Amen Wardy Home in Aspen.
Notes
Source: Created for SW by | Michael Rueggeberg
Keywords: Starters, Sides, Snacks