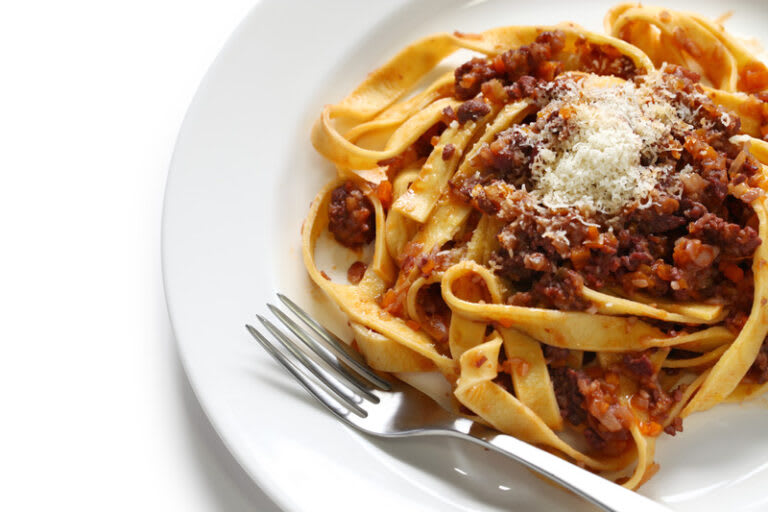 If you love a good Bolognese Meat Sauce, you have two choices, either make it yourself or go to a restaurant that really knows what they are doing. Sadly, many restaurants like to keep their ragù on hand for several days.
To make a really great sauce, you have to start with the best ingredients and start early, allowing the sauce to cook very slowly. We love the sauce at
Harry Cipriani-Harry's Bar
. If you ever have a chance to try it, enjoy! In the meantime, here is their recipe to INSPIRE your taste buds.
We used Tagliatelle, but any pasta can be used. Substitute ground beef, chicken, duck, turkey, rabbit or lamb. The sauce is enough for 1 pound of pasta, however if you like it saucy, that may vary.
Total Time:
2 hours 30 minutes
1

carrot peeled

1

celery rib

1

small onion

1/2

C olive oil (

125

ml)

1

garlic clove, crushed

1

pound ground veal (

450 g

)

1/2

C tomato paste (

125

ml)

2

TB flour

1/2 cup

dry white wine (

125

ml)

1 quart

chicken or veal stock

1 tsp

salt or more to taste
freshly ground pepper
bouquet garni: 1 fresh rosemary sprig, 1 fresh thyme sprig, 2 flat leaf parsley sprigs all tied in a cheesecloth
Instructions
Chop the carrot, celery, onion in a food processor fitted with a steel blade or by hand.
Heat half the oil in a skillet, add the chopped vegetables, and sauté over medium heat for 10 minutes.
Meanwhile, in a separate large skillet, heat the remaining oil over medium heat. Add the garlic, let it cook until golden, about 30 seconds, and discard it.
Add the ground veal and stir to break up the meat. Cook the meat, stirring frequently, until it is evenly browned, about 10 minutes.
Add tomato paste and sautéed vegetables, stirring until blended, and cook for 2 minutes.
Stir in flour and cook for another 2 minutes.
Then raise the heat, add the white wine, let it boil until it is almost evaporated, and stir in the stock, salt pepper, and bouquet garni, scraping up the brown bits from the bottom of the pan.
Bring the mixture to a boil, lower the heat, and simmer, uncovered, for 1 hour, stirring occasionally. If the sauce reduces too quickly, add a few spoonfuls of stock. The sauce should not be too thick and pour from the spoon when done.
Adjust seasoning to taste and serve with your favorite pasta, a very good Parmigiano-Reggiano and a nice Chianti or Zinfandel.
Notes
Recipe from Harry's Bar