Succulent, Slow Roasted Pork Wraps!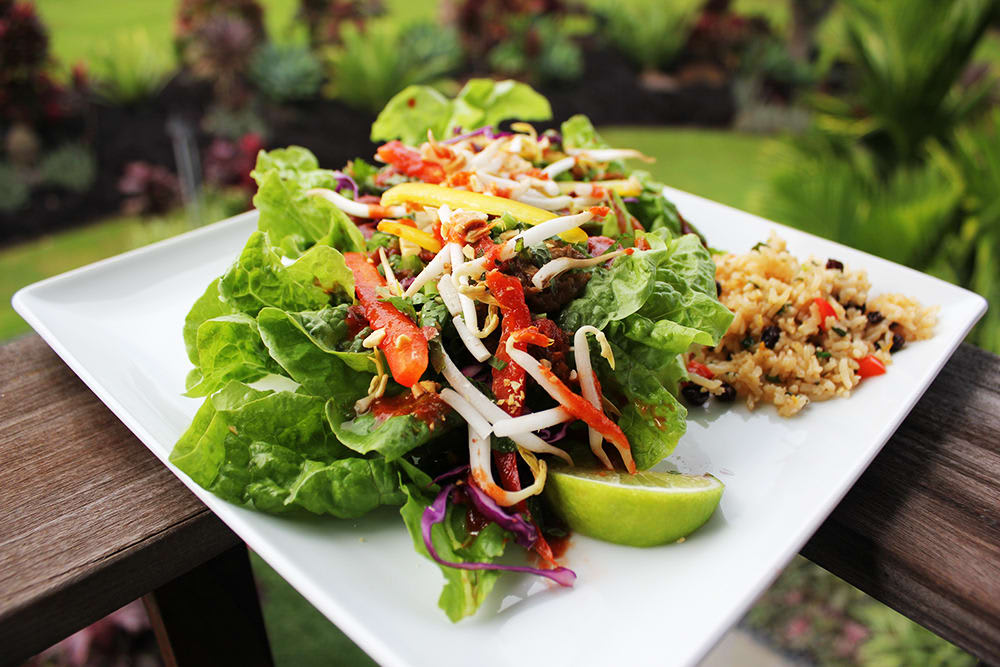 This recipe for, Slow Roasted Pork Wraps is one of our favorite recipes; it is perfect for entertaining a crowd as all the prep takes place before the guests arrive. The pork is super tasty wrapped in either a tortilla or a crisp leaf of lettuce, and served with
Thai Rice!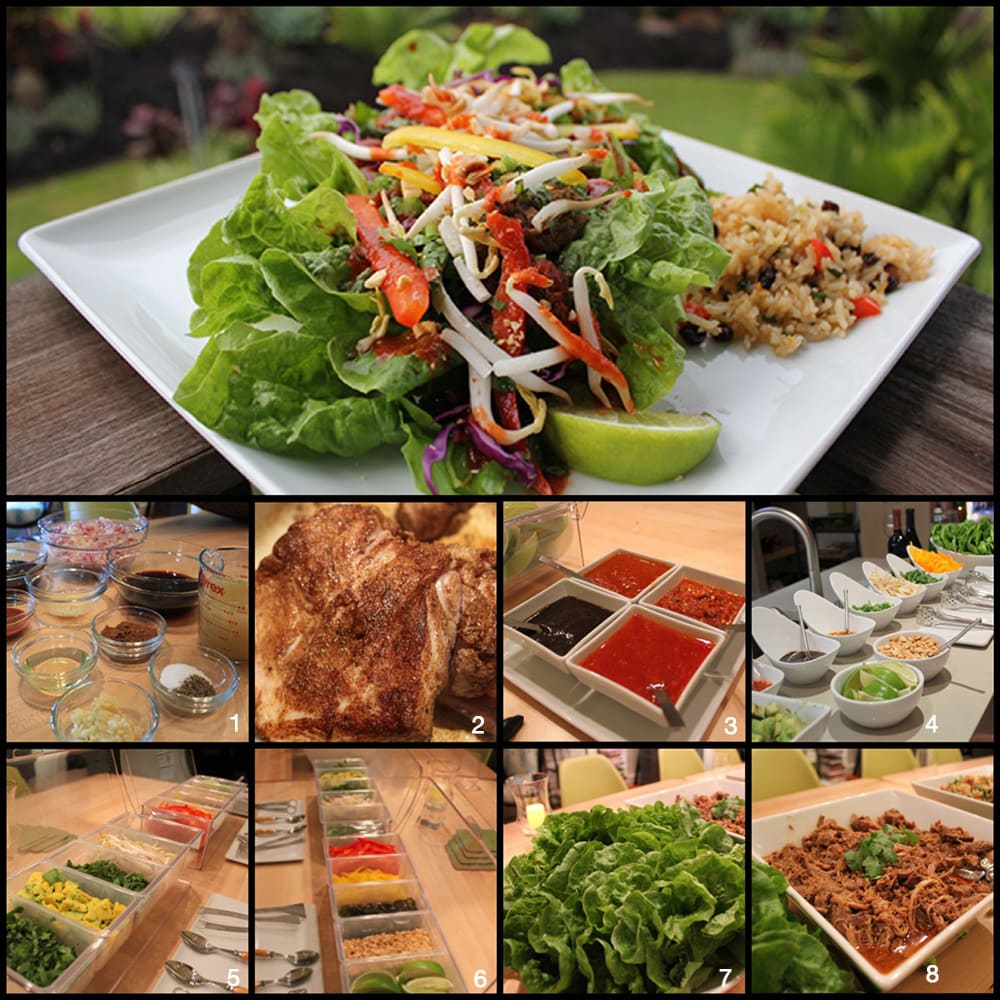 Main Image: Delicious, flavorful and fresh, slow roasted pork wraps.
Mise en place is essential and makes execution of the recipe a breeze.
Initial searing of the pork before braising in the oven.
This sauce quartet is the perfect finish for your wrap.
Sauces and toppings can be arranged and served in a variety of ways to create a fun condiment bar.
Condiment Bar Options.
Condiment Bar Options.
Fresh Garden Butter Leaf Lettuce is a perfect way to wrap the pork.
Slow Roasted Pork, ready to wrap and top to create a tasty, fresh wrap.
To create a delicious condiment bar that will pull everything together and add some BAM to these, Slow Roasted Pork Wraps take a look at our suggestions above. Present each one in a separate dish and allow everyone to create their wraps.
Prep time: 1 HR
Cook time:3 HR
Ingredients
Slow Roasted Pork
4 teaspoon Chinese five spice
1 tablespoon kosher salt
3/4 teaspoon freshly ground pepper
6 lb. boneless pork shoulder, cut into large pieces (trimmed if necessary)
3 tablespoon vegetable oil
2 medium yellow onions, diced
1 ½ teaspoon finely grated fresh ginger
1 ½ tablespoon minced garlic
1/3 cup Ponzu or Low Sodium Soy sauce (see notes)
1/3 cup Hoisin sauce
2 tablespoon Sriracha chili sauce
1 ½ cups chicken broth
Condiments/Toppings
Butter lettuce leaves washed whole
Mung Bean Sprouts
Green Onions chopped
Cilantro roughly chopped
Mint-roughly chopped
Yellow Bell Peppers-julienned
Red Bell Peppers-julienned
Peanuts-roughly chopped
Limes cut into 1/8 wedges for squeezing
Avocados-diced
Sauces
Hoisin Sauce
Sriracha Chili Sauce
Thai Garlic Chili Sauce
Mae Ploy Sweet Chili Sauce
Instructions
Preheat an oven to 350°F.
In a small bowl, combine the Chinese five spice, salt and pepper. Coat pork pieces with mixture, all pieces may not get coated evenly. It will all end up in the same pot so no worries.
In a cocotte or Dutch oven (we like Le Cruset) over medium-high heat, warm 2 Tablespoon of the oil. Working in batches, brown the pork on all sides, 6 to 8 minutes per batch. Transfer to a large bowl.
Reduce the heat to medium and warm the remaining 1 Tablespoon oil. Add the yellow onions and cook, stirring occasionally, until softened, about 5 minutes.
Add the ginger and garlic and cook, stirring frequently, for 1 minute.
Add the soy sauce, the 1/3 cup hoisin sauce, the 2 tablespoon chili sauce and the broth and bring to a simmer.
Return the pork to the pot. Cover the pot, transfer to the oven and bake, turning the pork occasionally, until it is fork-tender, about 2 ¾ hours.
Skim the fat off the sauce, if any. Using tongs and a fork, pull the pork apart into small pieces or shreds.
Serve with lettuce leaves, Thai rice, and all or some items listed in the condiment bar as you prefer and based on availability. Remember presentation is important so get creative on the condiment bar.
Notes
Ponzu-Soy: Ponzu is a citrus-seasoned soy sauce containing vinegar. Where the recipe calls for Ponzu or Low Sodium Soy Sauce you can use one or the other or combine the two. Kikkoman makes two delicious varieties of Ponzu feel free to use either one or both; Bright and tangy, original Kikkoman Ponzu Citrus or Lime Ponzu.
Pork: Can be made a day ahead and stored in the refrigerator and either reheated in the oven or on the stovetop. If you have any leftover pork the possibilities are endless, pasta, salads, ravioli, dumplings, pot stickers, etc.