A platter of Strawberry Kabobs makes an impressive, light dessert presentation for a dinner party. Colorful and fun these sweet treats offer a delicious surprise in every bite.
Crushed toasted nuts or sweetened coconut flakes may be added on top of drizzled chocolate prior to placing in fridge.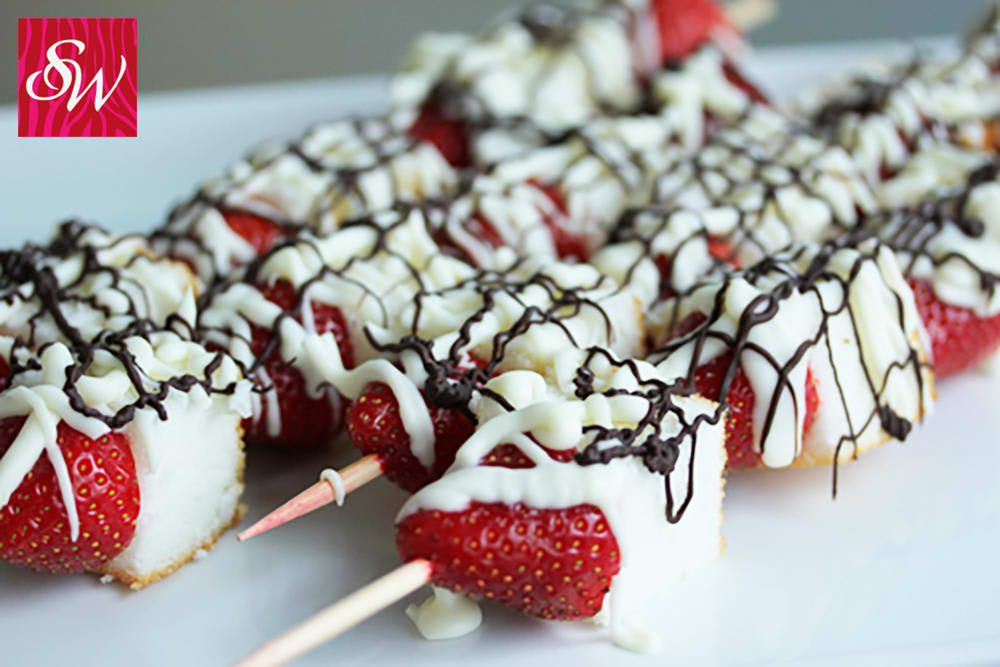 Prep time: 10 minutes
Cook time:30 minutes
Yield: 6-8
Ingredients
2 pints of ripe sweet strawberries
1 small loaf or bundt of angel food cake
1 cup dark chocolate chips
1 cup white chocolate chips
6-8 bamboo skewers
2 sandwich bags
Instructions
Wash strawberries, remove tops and allow to dry.
Cut angel food cake into 1 inch square pieces.
In a double boiler or microwave, melt white and dark chocolate chips separately until smooth and creamy. If using microwave melt at 30 sec intervals.
Skewer strawberries and angel food cake alternating each until all skewers are done.
Place melted chocolates in separate sandwich bags, twist shut, cut a small tip from one corner of each bag to create a piping bags.
Drizzle dark chocolate over each skewer and repeat with white chocolate.
Allow to set in the fridge for 30 mins, serve.
Notes
Created By | Pepper Weinglass