This is one of our favorite soups, it is full of flavor, filling and low in calories. Perfect as a starter or a full meal. You can also make this soup with additional vegetables or seafood instead of chicken. Try it with tofu or shrimp, mushrooms instead of red peppers, broccoli instead of kale, lime zest Instead of kaffir lime leaves. The flavors are fresh, intense and absolutely delicious!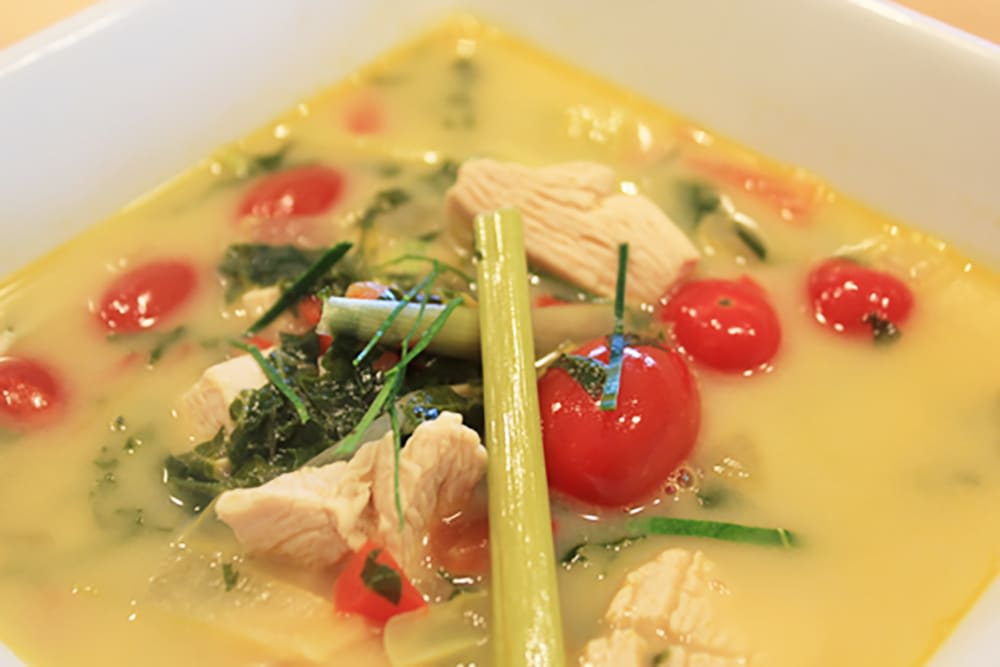 Simmer the chicken stock, lemongrass, thai chili peppers, kaffir lime leaves, celery leaves for maximum flavor.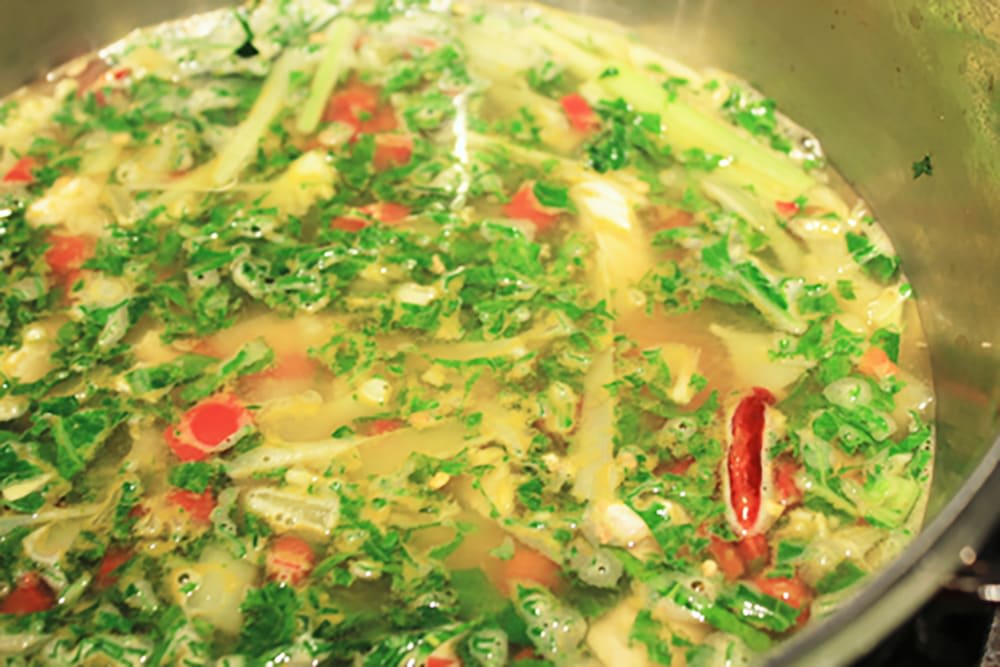 Prep time: 15 minutes
Cook time:15 minutes
Ingredients
1 1/2 quarts of chicken stock
8 oz. chicken breast cubed
1/2 C coconut milk
2 cloves garlic minced
1/2 yellow onion chopped
1 Tbsp ginger grated
3-4 thai red chili peppers
1 C curly kale chopped in small ribbons
1/2 C red pepper diced
1 C of cherry or grape tomatoes
2 stalks lemongrass cut into 4?s
1 lime juiced
3 Kaffir lime leafs cut into slivers
2 tsp fish sauce
1-2 tsp of olive oil
4 oz rice noodle
1/4 C celery leaves
1/4 C cilantro garnish
Instructions
In a saucier or stock pot, saute onions in olive oil until soft, add garlic, red pepper, and kale cooking until soft.
Add chicken stock, lemongrass, thai chili peppers, kaffir lime leaves, celery leaves and simmer for 5 minutes.
In a separate pan boil water, cook rice noodles for 3 minutes and drain.
Increase heat on stock and bring to a slight boil, add chicken, and fish sauce. Cook until chicken is done about 5 minutes. Add tomatoes so that they heat through but remain firm.
Add lime juice and coconut milk, adjust seasoning if necessary with a pinch of sea salt.
Place rice noodles in serving bowls, top with soup, garnish with cilantro and lime wedges.
Notes
Recipe Created By | Pepper Weinglass
Nutrition