Fresh and delicious, this is a great small-bite appetizer to serve at a cocktail party. We served the Poke in mini-martini glasses on cake tiers for effect. We garnished the tiers with kaffir lime leaves from our tree and small iron koi-fish that we use as chop stick rests. We placed two glasses adjacent to the tiers, one with mini-cocktail forks and one with chopsticks, so that each guest could choose. Chilling your serving bowls ahead keeps each dish nice and cool as cocktails are passed.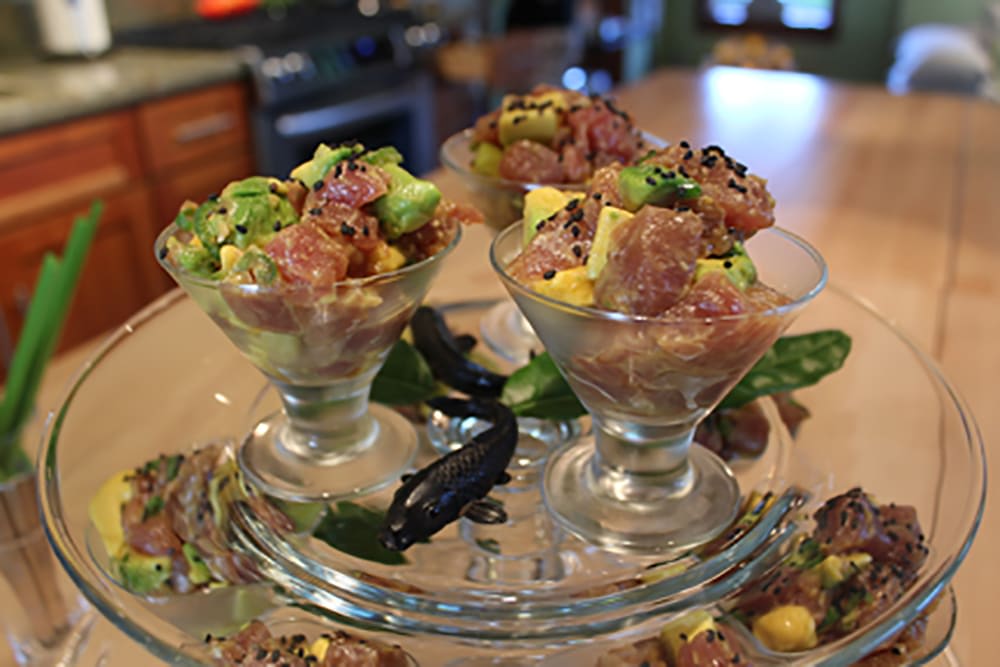 Prep time: 15 minutes
Cook time:15 minutes
Yield: 4-6
Ingredients
3/4 lb. sushi-grade tuna fillet
1/2 large avocado
1/2 tsp fresh ginger-minced
1 Tbsp reduced-sodium soy sauce
1 Tbsp toasted sesame oil
1½ tsp fresh lime juice
1 small Jalapeño or Serrano chile-thinly sliced or finely minced
1 Tbsp fresh chives
1Tbsp black sesame seeds
Instructions
Using a very sharp knife, trim away any sinew and skin from tuna fillet.
Cut tuna and avocado into ¼-inch pieces and place in a bowl.
Add ginger, soy sauce, sesame oil, lime juice, and chile and stir to combine.
To serve, divide tuna among chilled bowls, garnish with chives, and sprinkle with sesame seeds.
Notes
Adapted From | Cooking For Friends