This cake is. AMAZING and ends any meal well! You can prepare the cake batter ahead of time and bake 10 minutes before serving. Baking time depends on the ooze factor you're after. If, like us, you prefer a warm, liquid center, check after 10 minutes of baking time. The top should be cooked through but not the center. If you prefer a firmer cake, check with a toothpick after 10 minutes and keep baking until the center is set. The result will be an incredibly moist cake.
Serve with a small scoop of flavored ice cream classic vanilla or maybe coconut, raspberry or cherry vanilla; any flavor you enjoy with Chocolate Cake!
Host a black-and-white party and serve this elegant dessert.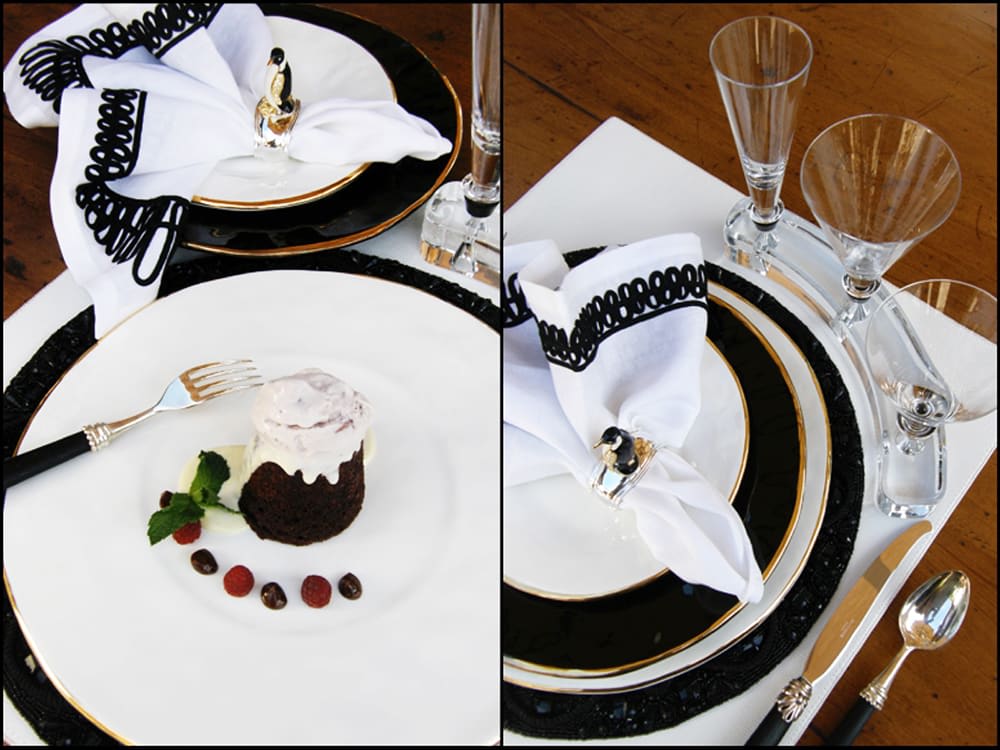 Prep time: 15 minutes
Cook time:10 minutes
Ingredients
Cake
12 ounces semi-sweet baking chocolate or 70% dark chocolate bar
12 ounces butter, diced, room temperature
6 eggs
1 cup granulated sugar
2/3 cup all-purpose flour, sifted
Butter for Ramekins
Fresh raspberries
Vanilla Sauce
5 egg yolks, lightly beaten
1/2 cup granulated sugar
2 cups heavy whipping cream, ½ cup reserved
1 fresh vanilla bean, scraped
Instructions
Cake
Preheat oven to 350° F.
Melt chocolate in a double broiler over medium-high heat.
Remove from heat and stir in diced butter until fully melted. Set aside.
In large bowl, beat eggs and sugar until thick and light.
Slowly stir in melted chocolate and then flour.
Butter 8 individual, 6-ounce ramekins, and pour in chocolate batter.
Place on baking sheet and bake for about 10 minutes. (See summary above, about baking times and desired consistency.)
While cakes are baking, prepare the vanilla sauce.
Using small knife, cut around sides of cakes to loosen.
Place plates on top of ramekins.
Invert cakes onto plates; remove ramekins.
Serve immediately with vanilla sauce, fresh raspberries and your ice cream.
Vanilla Sauce
Beat egg yolks and sugar together with a wire whisk or mixer for 3 or 4 minutes, or until the yolks are thick and pale yellow.
Pour 1 ½ cups cream into a 2 to 3-quart saucepan.
Add vanilla bean pulp and bring cream to a boil over medium heat.
Remove from heat and let stand 20 minutes to infuse vanilla flavor.
Add cream in a slow, thin stream to the egg yolks, whisking constantly.
Pour the mixture back into the saucepan and cook over low heat, stirring constantly with a spoon, until the sauce is thick enough to coat the spoon lightly.
Do not let sauce come to a boil as it may curdle.
Remove pan from heat and strain sauce through a fine mesh strainer, set aside and cool covered.
Whisk the remaining ½ cup cream to soft peaks and fold into the vanilla sauce base. Serve with chocolate lava cake or use on other desserts.
Notes
Created for SW by | Michael Rueggeberg
Nutrition