We love Pizzeria Mozza and have been going every time we are in LA or Newport Beach since they opened. The first bite of Chef & Co-Owner, Nancy Silverton's Butterscotch Budino with Caramel Sauce and Rosemary-Pine Nut Cookies, instantly takes your taste buds on a trip to happiness.
The rich, deep flavor of the buttery caramel is sublime, and the velvety texture is so deeply soulful that you may shed a tear or two in the empty dish.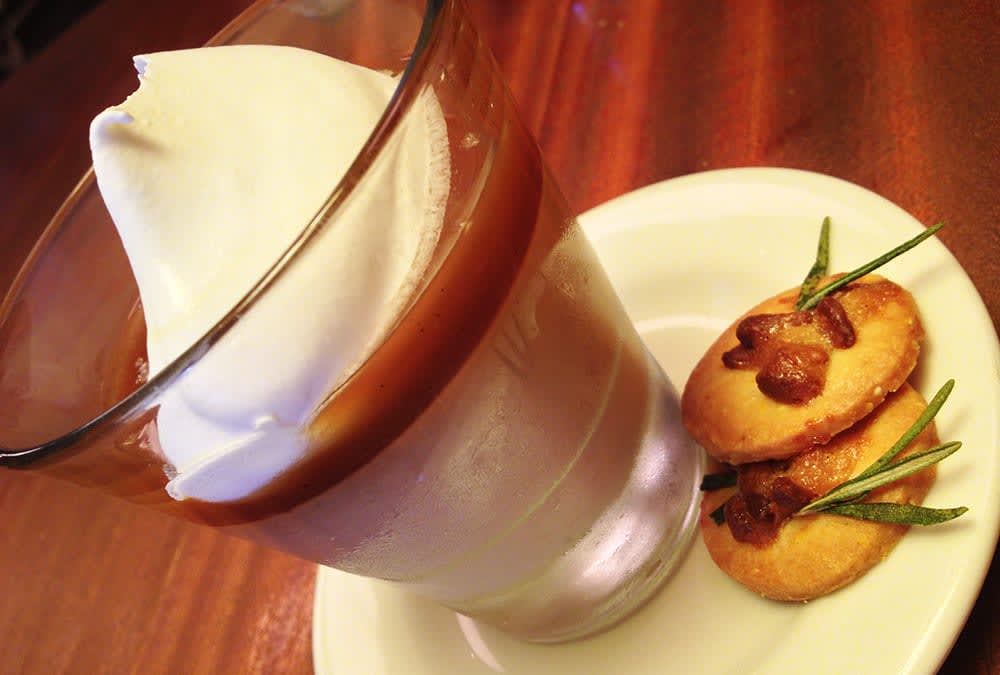 Budino is a sweet Italian dish, usually rich and creamy like a custard or pudding.
Yield: 10 servings
Ingredients
Butterscotch Budino
1 cup

, plus 2 tablespoons dark brown sugar

1/2 cup

water

1 1/2 teaspoons

kosher salt

3 cups

heavy cream

1 1/2 cups

milk

1

egg

3

egg yolks

5 tablespoons

cornstarch

5 tablespoons

butter

1 1/2 tablespoons

dark rum
Rosemary–Pine Nut Cookies
3 tablespoons

heavy cream

1 tablespoon

plus 1 1/2 teaspoons honey

1 tablespoon

plus 1 1/2 teaspoons sugar

1 tablespoon

plus 1 1/2 teaspoons all-purpose flour, sifted

1/4

vanilla bean, scraped

1 tablespoon

plus 1/2 cup butter, divided

1/2 cup

pine nuts, lightly toasted

2

sprigs of rosemary

1/4 cup

plus 2 tablespoons powdered sugar

1/2 teaspoon

vanilla extract

1/4 teaspoon

kosher salt

3/4 cup

plus 2 tablespoons pastry flour

1/4 cup

cornmeal or polenta
Caramel Sauce
1/2 cup

heavy cream

1/8

vanilla bean, scraped

2 tablespoons

butter

1/2 cup

sugar

2 tablespoons

corn syrup

2 tablespoons

water

1/4 cup

whipping cream

3/4 cup

crème fraîche

1 1/4 teaspoons

fleur de sel
Instructions
Budino
Combine the brown sugar, water, and salt in a large, heavy-bottomed pot
over medium-high heat. Cook to a smoking, dark caramel, about 10 to 12 minutes. (The sugar will smell caramelized and nutty and turn a deep brown.)
Immediately whisk the cream and milk into the caramel to stop the cooking. The mixture will steam and the caramel will seize, but will become smooth again as you whisk. Bring the mixture to a boil and reduce the heat to medium.
In a medium bowl, whisk together the egg, egg yolks, and cornstarch. Temper the hot caramel cream into the egg mixture by adding a cup of caramel at a time, whisking constantly.
When half the caramel is incorporated, pour the egg mixture back into the remaining caramel, and boil while whisking constantly until the custard is very thick about 2 minutes.
Remove the custard from the heat and whisk in the butter and rum. Strain the custard through a fine mesh strainer to remove any lumps and divide among ten 6-ounce ramekins. Cover with plastic wrap and chill for several hours, or up to 3 days.
Rosemary–Pine Nut Cookies
Place the cream, honey, sugar, vanilla bean seeds, and 1 tablespoon butter in a heavy-bottomed saucepan and cook over high heat, stirring only once to ensure even cooking, until the mixture reaches 230ºF on a candy thermometer. Take off the heat and whisk in the all-purpose flour.
Pour the mixture into a bowl and fold in the pine nuts and 1 of the rosemary sprigs. Let the mixture stand for 15 minutes. Remove and discard the rosemary sprig. (This mixture can be made in advance, and stored in the refrigerator for up to a week. Bring it to room temperature before rolling out the cookies.)
In the bowl of a stand mixer fitted with the paddle attachment, mix together the remaining 1/2 cup butter and the powdered sugar until it is creamy and smooth, scraping down the sides as needed.
Add the vanilla extract and salt and mix until combined. Add the flour and polenta and mix until combined. The dough will be soft. Shape the dough into a disk and wrap the disk in plastic. Chill for at least 2 hours or overnight.
Preheat the oven to 350ºF. On a well-floured surface, roll out the cookie dough to 1/8-inch thick.
Cut out circles of dough using a 1 1/4–inch round cutter. Place the circles of dough on a
parchment-lined baking sheet. Work the pine nut mixture between your fingers, creating a thin disk about the size of a dime.
Place the circle on a cut-out cookie and garnish with fresh rosemary sprigs, about three leaves for each cookie. Once all of the cookies are finished and garnished, bake them for about 15 minutes until they are golden brown. Cool on a wire rack.
Caramel Sauce
Heat the cream and vanilla in a medium saucepan over medium heat until simmering. Add the butter, turn off the heat, and set aside. In a large heavy-bottomed saucepan, combine the sugar, corn syrup, and water. Cook over medium-high heat, swirling the pan just slightly to gauge the caramelization, until the sugar becomes a medium amber color, about 10 minutes.
Remove the caramel from heat and carefully whisk the cream mixture into the caramel. Be very careful the caramel will steam and bubble. Whisk to combine. Place the pan in a large bowl of ice water to cool.
Serve
Whip the whipping cream in a chilled medium bowl until it begins to thicken. Add the crème fraiche and beat until thick and fluffy. Spoon 1 tablespoon of the warm caramel sauce onto each budino, sprinkle with 1/8 teaspoon of fleur de sel, and add a dollop of whipped cream. Serve with a few cookies on the side.
Notes
Recipe From | Nancy Silverton
Pizzeria Mozza; Osteria Mozza, Los Angeles
Did You Make This Recipe?