When I plan a dinner party, I first come up with a theme or a mood that I want to set for the evening. Then comes the menu, the table setting, party favors and other fun details. I love eating at street carts and food trucks; it makes me feel like its going to be all about the food since the pressures of running a traditional restaurant don't exist.
On one particular Sunday, I was feeling like entertaining, and I wanted a relaxed atmosphere, focusing on fantastic food with lots of flavors. I thought recreating a street food experience would be fun and Thai food is an all-time favorite. The table setting was simple; I used individual wood dinner plates, metal wine cups, green woven rattan covered water glasses and paper place-mats with images of chickens and roosters, which I found amusing considering they run wild in the streets of Kauai. I used miniature chalkboards as place-cards.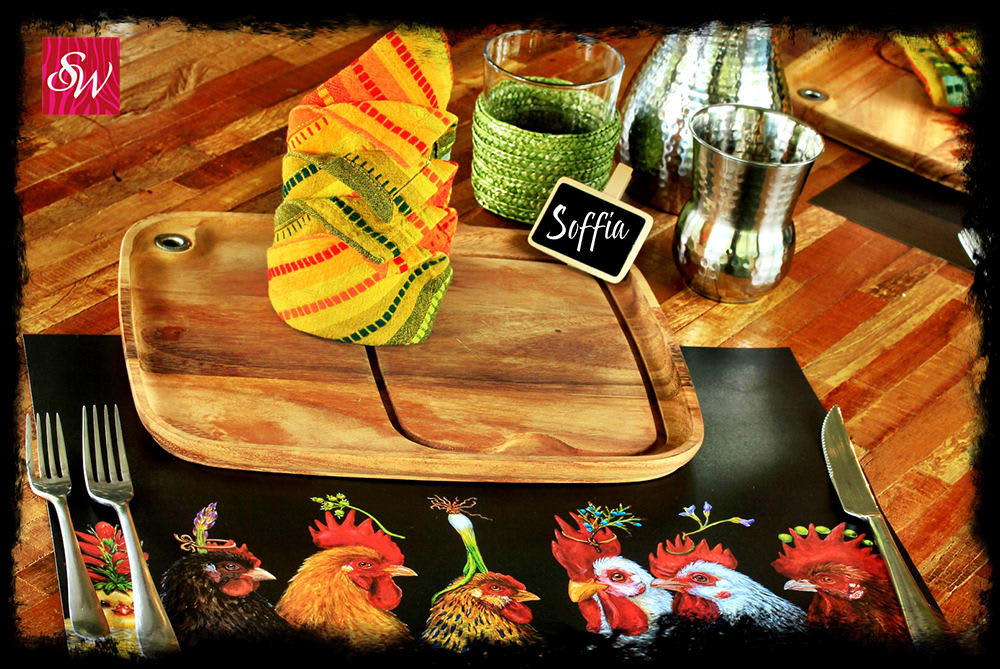 All the food was served in the center of the table, leaving little room for candles. I had several empty Lucky Buddha Beer bottles that I placed near each place setting with a handy bottle light inside, creating just the right amount of ambiance and light.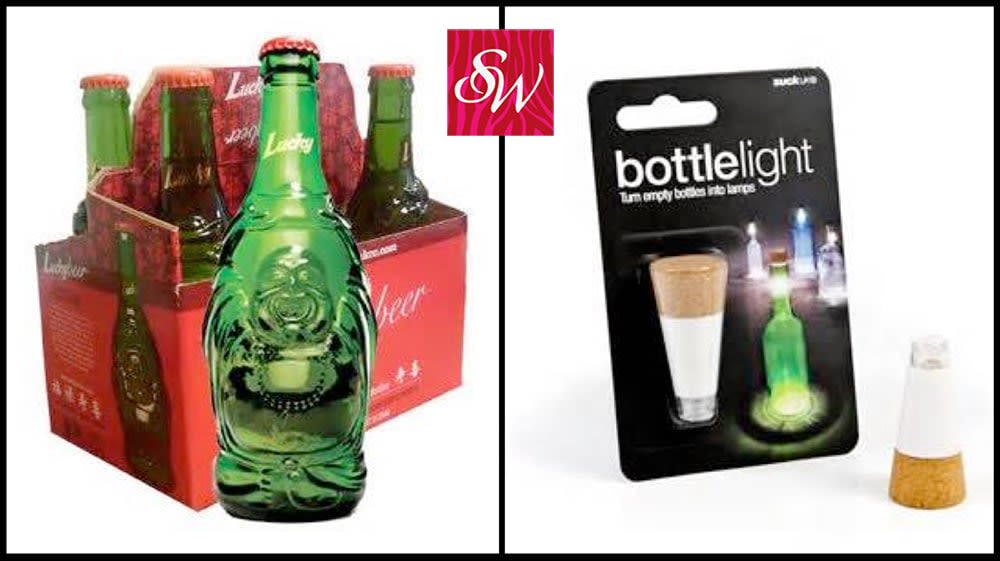 I love
Thai-Style Grilled Chicken
also referred to as Gai Yang with Sweet Chili Dipping Sauce. It originates from Northeastern Thailand, and is commonly found in street markets, so that was the centerpiece of my Thai Street Food Dinner Party. I found some fresh Kumquats and grilled them to serve with the chicken. Placing it all on a large wood cutting board gave it a rustic look.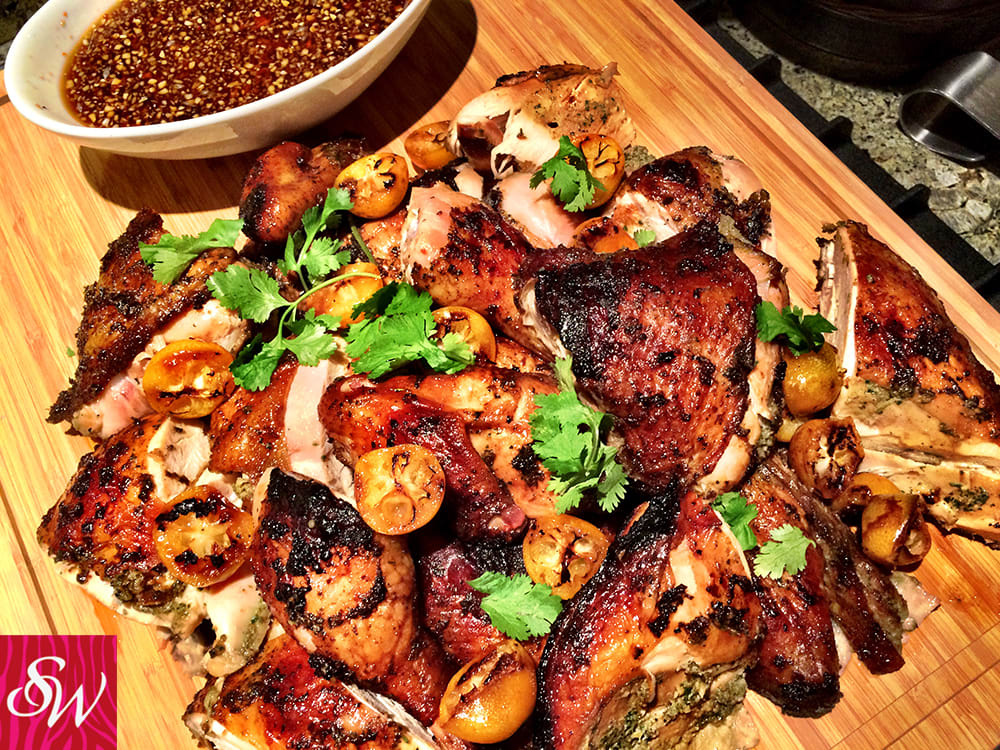 Coconut sticky rice seemed like a natural pairing, but I just didn't want the extra carbs. My solution was to serve a healthier carb. I thought
Spicy Sweet Potato Fries
would work well, with a
Thai Style Spicy Barbecue Ketchup
. Serving the fries and ketchup in metal cups and presenting them in a rustic basket, added to the street food theme.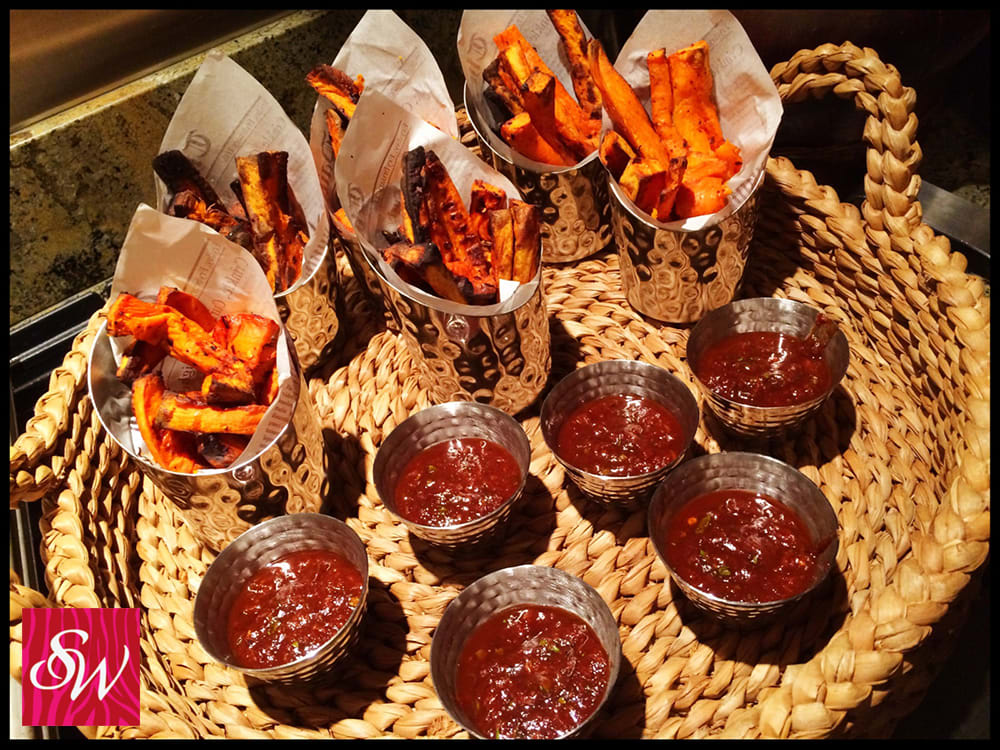 The only thing missing was a nice healthy vegetable. The farmer's market had some beautiful, small zucchini, so I grilled them and served them with a Thai Lime Vinaigrette, cherry tomatoes, mung beans, and microgreens. The dish was fresh and healthy and perfectly complemented the rest of the menu.
Grilled Zucchini | Thai Lime Vinaigrette