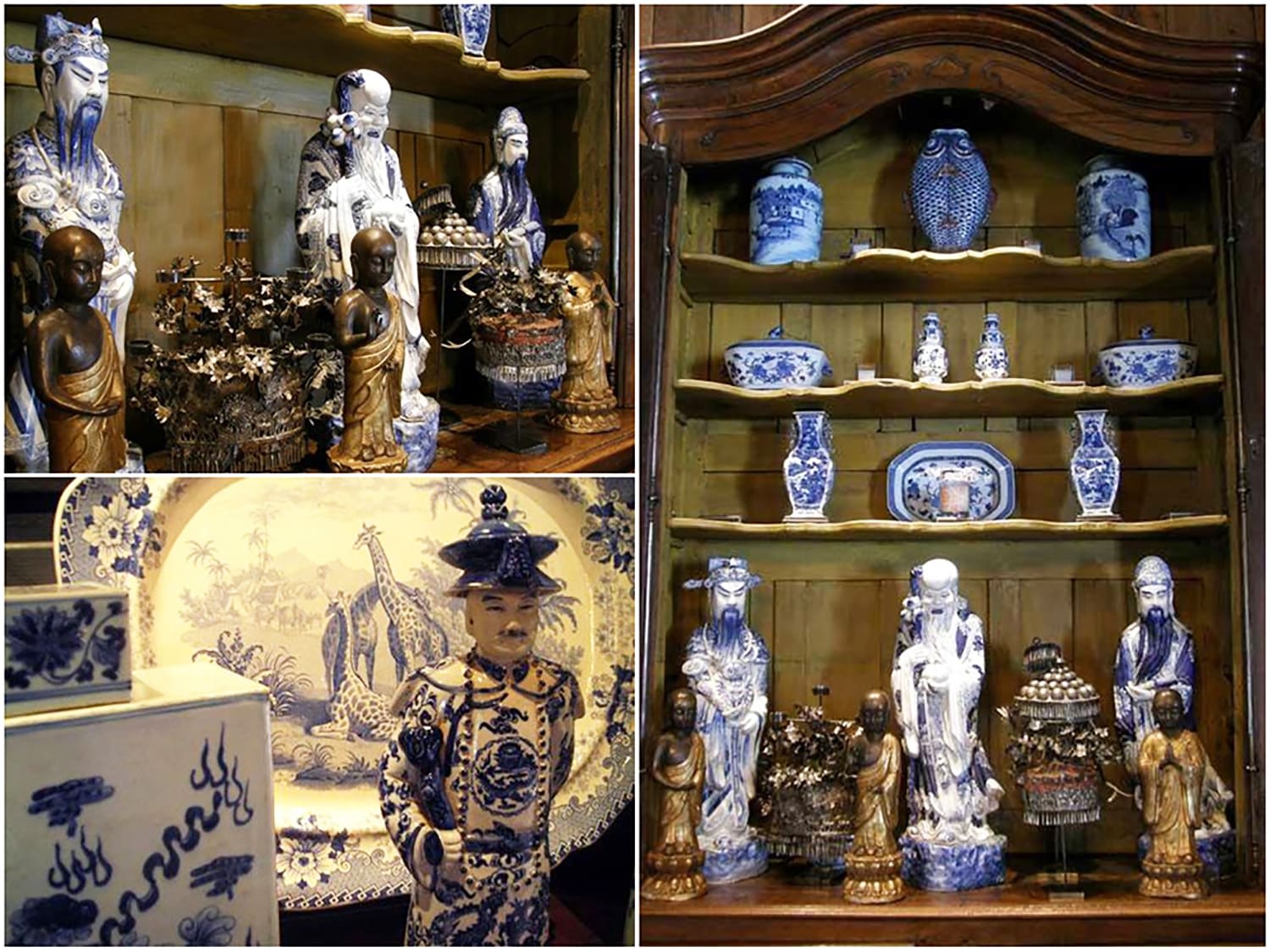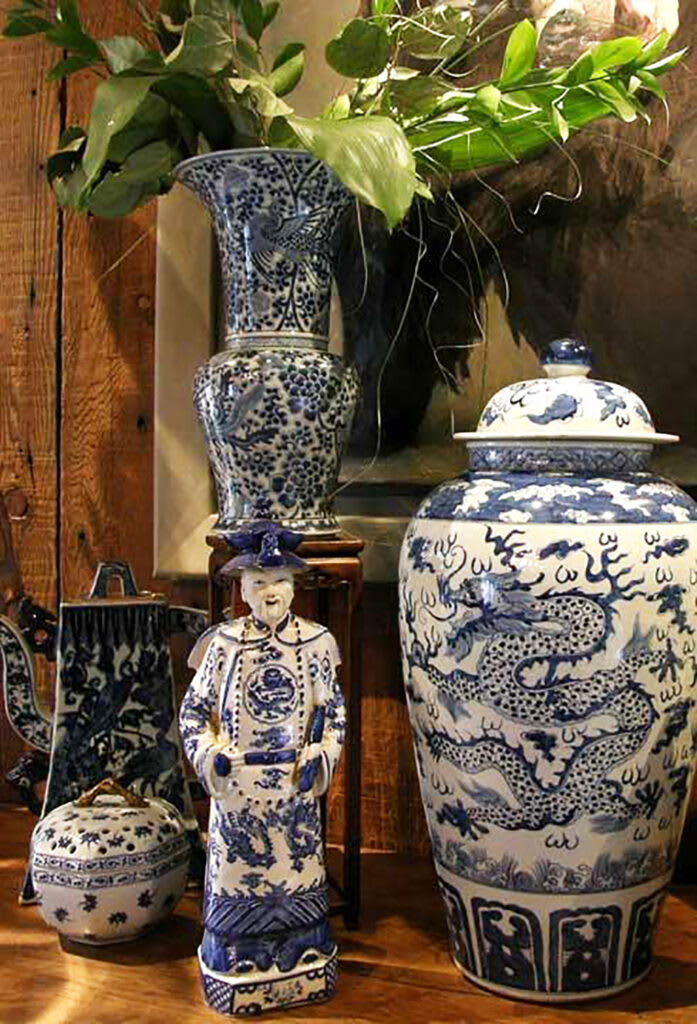 An intricate dragon adorns a ginger jar. A tea service, covered box, and large vase are emblematic of the European forms the Chinese created specifically for export.
My parents have had the greatest influence on my love of beautiful home environments. My Dad once told me that what makes a home remarkable is collections of art and antiques, instead of one piece here and there. To make a statement, display pieces together. He has one such set of Chinese Export that I have admired over the years.
Chinese porcelain first came on the scene in Europe in the fourteenth century as a rare and precious possession. It wasn't until the early sixteenth century, thanks to trade routes between Portugal and the Far East that Chinese potters began to produce objects explicitly for export to Europe.
The Chinese had a different approach to painting porcelain. At the time, in most countries potters would create an object, fire it in a kiln and then paint it, glaze it and fire it again. With their blue and white porcelain, the Chinese's technique involved applying blue decoration directly on the unfired clay, glazing it and then firing it. With this process, they achieved what is considered among the finest artistic craftsmanship.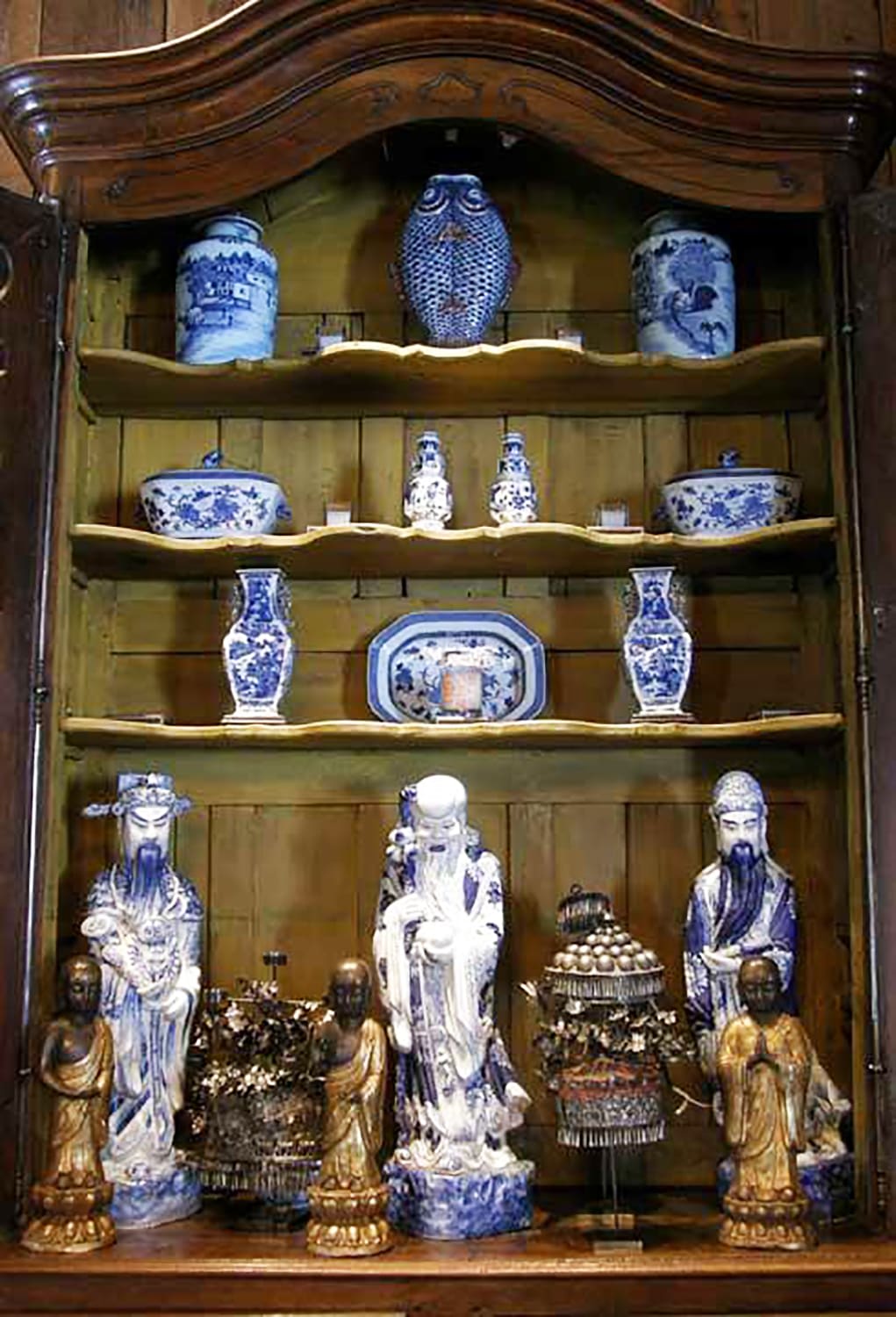 The original export collection is house in a seventeenth century antique armoire.
The Influence Chinese Porcelain
It's hard to over-state the influence Chinese porcelain has had on subsequent European porcelain over the centuries. From Delftware to Chinoiserie to the popular willowware pattern which is still widely collected. Yet during the height of production in the seventeenth and eighteenth centuries, the Chinese saw the export pieces as just that, valuable for trade.
"It was not made for their own consumption," says antiquarian John Nelson of John J. Nelson Antiques in Los Angeles. By the eighteenth century, wealthy European families were commissioning enormous dinner sets adorned with everything from armorial family crests, to elaborate flowers, animals and architectural buildings. (At this time, the popularity of polychrome enameled decoration, painted over the glaze, increased.) "The Chinese considered it inferior. They revered simple designs, as opposed to what they were being asked to create," adds Nelson.
Europeans desired many utilitarian forms not known in China, so they sent potters many pieces to copy including mugs, terrines, punch bowls, ewers, cream pitchers, helmet pitchers, chocolate pots, and incredible animals created as terrines.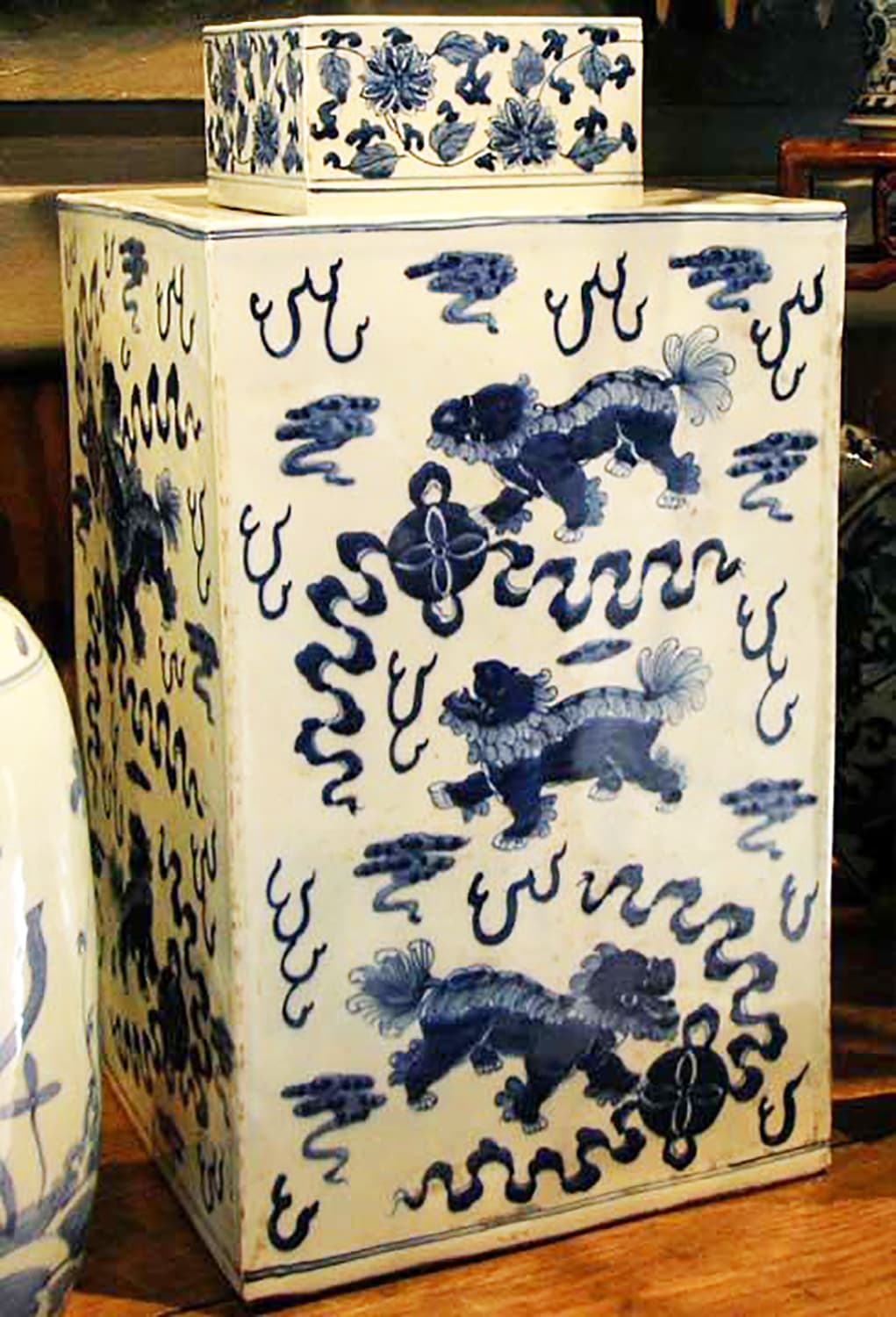 Ornate, dragon-covered tea jar.
"Export porcelain animals are probably among the most sought after and highly collectible export pieces," says Nelson. "The French loved them so much they would embellish them with gold, washed dore, bronze, and mounts and turn them into candelabras."
Canton Chinese export porcelain reached its zenith in the eighteenth century. And although the founding of European porcelain factories in the early eighteenth century would in some respects take away from the Chinese export, it did have a revival in the farther West after America became independent and established its own trade routes. American agents commissioned pieces with patriotic depictions of several American themes and motifs including the American eagle and portraiture of the country's forefathers.
Today, authentic Chinese export porcelain is still highly sought after.